Hnýðingur (
Lagenorhynchus albirostris

)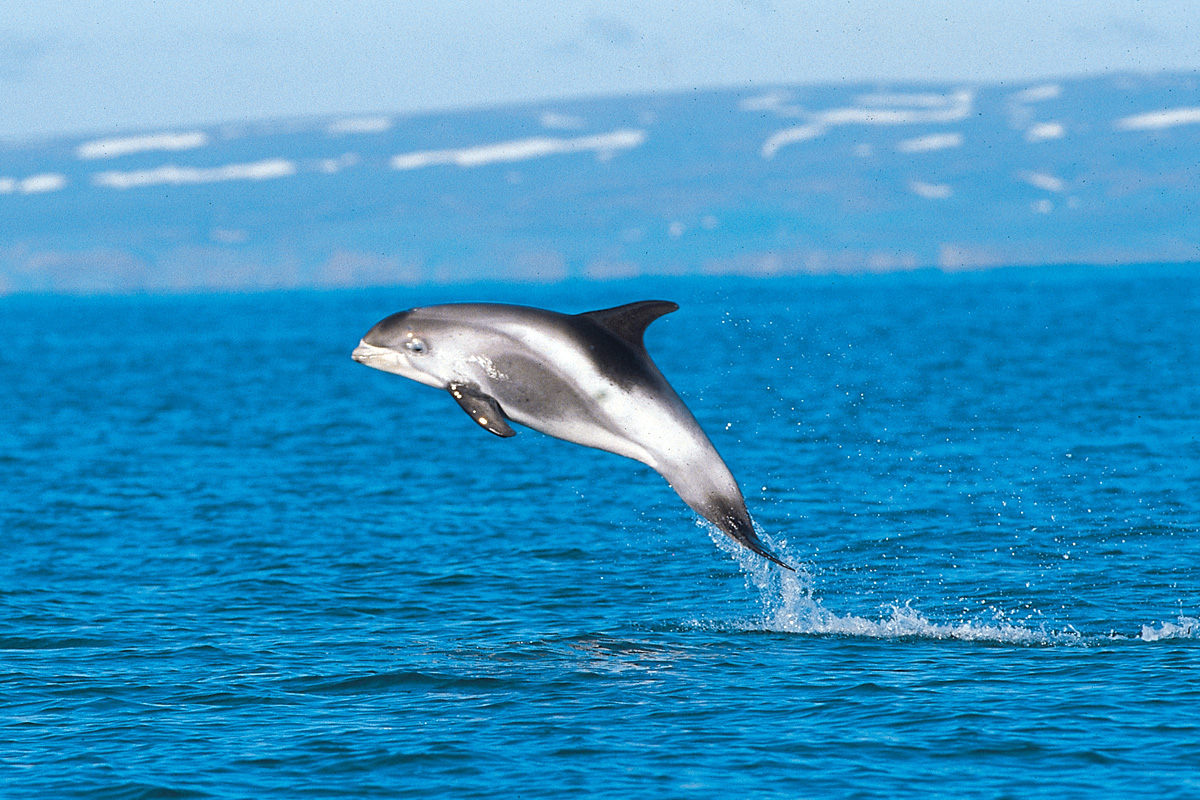 Útbreiðsla
Hnýðingur er útbreidd og algeng tegund í Norður Atlantshafi en þó mun algengari austan hafs en vestan. Suðurmörk eru nálægt landamærum Bandaríkjanna og Kanada í vestri og við Norður Frakkland í austri. Útbreiðslan nær norður fyrir Nuuk á Grænlandi í vestri og til Svalbarða í austri. Hnýðingur er algengur allt umhverfis Ísland að sumarlagi og er mest af honum í Faxaflóa og úti fyrir Norðurlandi. Ekki er vitað hvort hnýðingar hafi árstíðabundið far en þeir sjást hér við land í einhverjum mæli allt árið. Þeir fara hratt yfir stór svæði og hafa takmarkaða átthagatryggð.
Stofn
Stofngerð er ekki vel þekkt, en talið er að stofnarnir séu minnst fjórir: 1) Vesturhluti Norður Atlantshafs. 2) Hafsvæðið umhverfis Ísland. 3) Norður Noregur og 4) Norðursjór og umhverfis Stóra Bretland. Hnýðingur er algengasta höfrungategundin á landgrunni Íslands. Samkvæmt talningum undanfarinna áratuga nemur fjöldinn á hafsvæðinu kringum Ísland 50 þúsund dýr hið minnsta en líklega eru þeir yfir 100 þúsund.
Lífshættir
Hnýðingar verða allt að 50 ára gamlir en ná kynþroska um það bil 10 ára. Burður er líklega annað til þriðja hvert ár og fæðast kálfar í maí-ágúst eftir 11 mánaða meðgöngu. Hnýðingar fara oftast um í smáum hópum, yfirleitt ekki fleiri en 10-20 dýr. Þó eru dæmi um miklu stærri hópa, jafnvel meira en þúsund dýr. Þá er talið að um sé að ræða tímabundna sameiningu hópa á svæðum þar sem mikið er um fæðu. Hnýðingar fylgja gjarnan bátum og stökkva upp úr sjónum með miklum gusugangi. Þeir fylgja stundum stórhvelum svo sem langreyði og hnúfubak en hafa líka sést í fylgd með háhyrningum hér við land.
Lýsing
Hnýðingurinn er gildvaxinn en rennilegur höfrungur, um 2,6-2,8 m að lengd og 300-350 kg að þyngd. Hornið er stórt og aftursveigt og staðsett fyrir miðju baki. Liturinn er mismunandi en yfirleitt dökkur að ofan og ljós að neðan, trýnið er hvítt eða grátt.
Válisti
LC (ekki í hættu)
| Ísland | Evrópuválisti | Heimsválisti |
| --- | --- | --- |
| LC | LC | LC |
Forsendur flokkunar
Kynslóðalengd (IUCN): 15,5 ár. Tímabil sem mat miðast við eru 3 kynslóðir.
Fyrirliggjandi gögn benda fremur til fjölgunar en fækkunar undanfarna áratugi og flokkast tegundin því ekki í hættu (LC) á íslenska válistanum.
Staða á heimsvísu
Hnýðingur flokkast ekki í hættu (LC) á heimslista og Evrópulista IUCN og á svæðislista Noregs. Við Grænland er tegundin ekki metin (NA). Hnýðingur er skráður í viðauka II á lista CITES um alþjóðaverslun með hvalaafurðir.
Helstu ógnir
Nokkuð er um að hnýðingar drepist í veiðarfærum, einkum þorskanetum, hér við land. Fjöldinn er þó mun minni en hjá hnísum og selum og ekki talinn hafa merkjanleg áhrif á stofnstærð. Hnýðingar gætu verið viðkvæmir fyrir efna- og hljóðmengun í hafinu, skipaumferð og öðrum truflunum en áhrif þessa eru óljós.
English summary
Lagenorhyncus albirostis population in Icelandic waters is estimated at least 50,000 individuals, and likely more than 100,000. There is no sign of decline, in fact the population may have increased in the past decades. Therefore the species is listed as least concern (LC) according to IUCN criteria.
Heimildir
Bertulli C G, Tetley M J, Magnúsdóttir E E et al. (2015a) Observations of movement and site fidelity of white-beaked dolphins (Lagenorhynchus albirostris) in Icelandic coastal waters using photo-identification. J. Cetacean Res. Manage. 15: 27-34.
Gísli A. Víkingsson og Droplaug Ólafsdóttir (2004). Hnýðingur. Í: Páll Hersteinsson (ritstj.) Íslensk spendýr. Vaka-Helgafell, Reykjavík, bls. 154-157.
Hammond, P.S., Bearzi, G., Bjørge, A., Forney, K.A., Karkzmarski, L., Kasuya, T., Perrin, W.F., Scott, M.D., Wang, J.Y. , Wells, R.S. & Wilson, B. (2012). Lagenorhynchus albirostris. The IUCN Red List of Threatened Species 2012: e.T11142A17875454. http://dx.doi.org/10.2305/IUCN.UK.2012.RLTS.T11142A17875454.en
Pike DG, Paxton CGM, Gunnlaugsson T, Víkingsson GA (2009) Trends in the distribution and abundance of cetaceans from aerial surveys in Icelandic coastal waters, 1986-2001. NAMMCO Sci Publ 7:117–142.
Höfundur
Was the content helpful Back to top
Please tell us why: