Dýr (Animalia)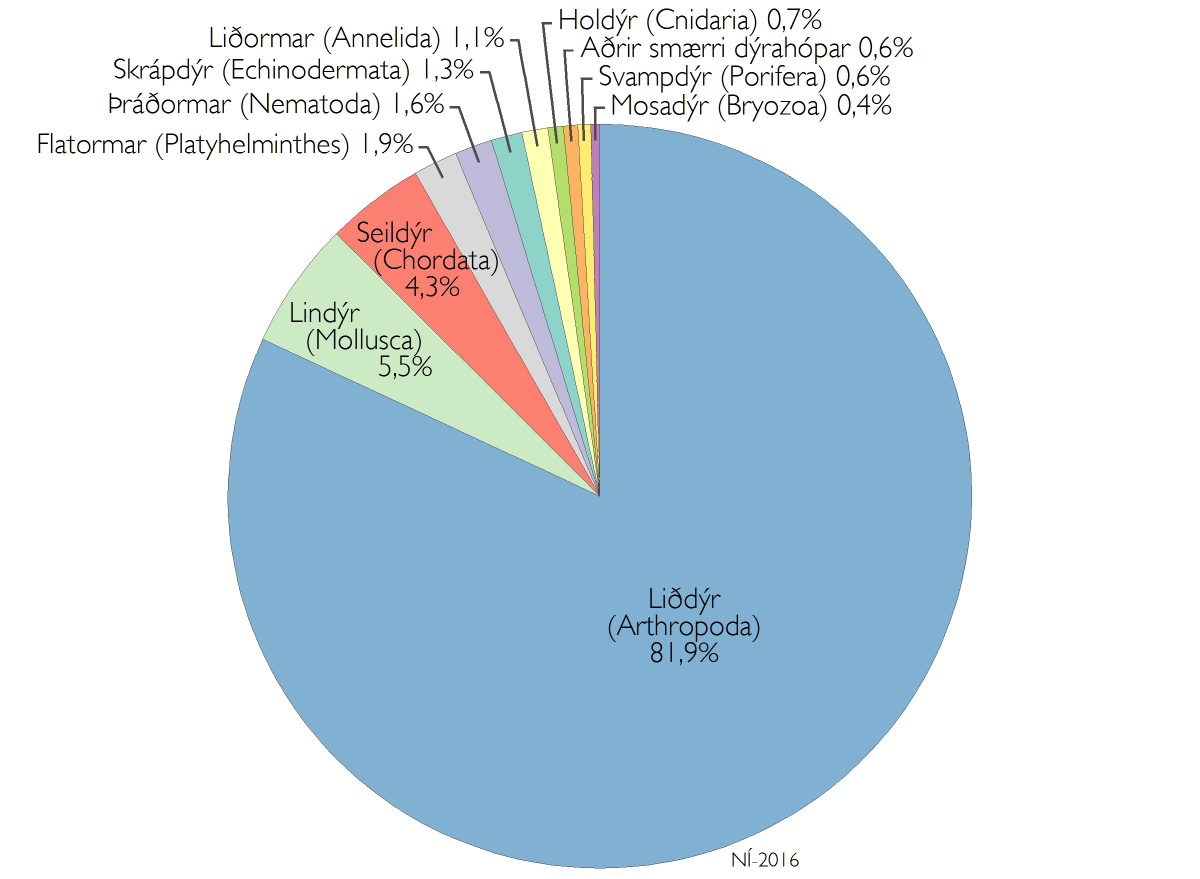 Almennt
Dýr eru fjölfruma heilkjörnungar (Eucaryota) með ýmsa sérhæfða frumuvefi og líffæri sem aðrar lífverur hafa ekki, til að mynda taugar og vöðva. Flest bendir til að allar dýrategundir myndi einættaða flokkunarheild (monophyletic group), þ.e. að uppruni þeirra er rakinn til einnar og sömu móðurtegundarinnar. Nánasti ættingi dýra eru kragafrumungar (Choanoflagellata), en það eru einfrumungar sem mynda laustengt sambýli margra einstaklinga. Hin sameiginlega formóðir allra vefdýra og núlifnandi kragafrumunga var uppi fyrir rúmlega 600 milljón árum, eða á ofanverðu forkambríum. 
Öll dýr eru ófrumbjarga og afla sér næringar með því að taka til sín lífræna fæðu með ýmsum hætti. Þótt slíkur lífsmáti einkenni dýr, þá þekkist hann einnig meðal annarra lífvera, til að mynda gerla og sumra plantna sem veiða dýr sér til viðurværis. Ófrumbjarga lífsmáti er því afar frumstæður eiginleiki, í þeim skilningi að hann varð til og þróaðist löngu fyrir tilurð dýra.
Núlifandi dýr skiptast í um 35 fylkingar (Phylum), sem flestar aðgreindust í þróunarsögunni við upphaf kambríum, fyrir 541 milljón árum. Allflestar þessara fylkinga eiga sér fulltrúa í íslenskri náttúru. Langsamlega tegundaríkasta fylkingin er liðdýr, en þar á meðal eru  skordýr, krabbadýr og fleiri fjölskrúðugir undirhópar. Af öllum þekktum tegundum jarðar, þá eru um 82% liðdýr, en þar á eftir eru lindýr, með um 6% tegundanna. Áætla má að heildarfjöldi dýrategunda í heiminum séu um 7,7 milljónir, en þar af er aðeins búið að uppgötva rúmlega 1,6 milljón. Þótt aðeins lítill hluti dýrategunda sé þekktur, þá er nokkuð víst að hlutfallsleg skipting þeirra milli fylkinga liggi fyrir í megindráttum.  
Íslenskar dýrategundir skipta þúsundum. Á landi og í ferskvatni eru þekktar rúmlega 2.000 tegundir og innan íslenskrar efnahagslögsögu er vitað um ríflega 2500 tegundir. Heildarfjöldinn er þó eflaust margfalt meiri, enda eru fjölmargir tegundaauðugir dýrahópar í íslenskri náttúru lítt rannsakaðir.
(gg@ni.is)
Heimildir
1.Zhang, Z-Q. (2013). Animal biodiversity: An update of classification and diversity in 2013. Zootaxa, 3703: 5-11.
2.Lecointre, G. & Le Guyader, H. 2006. The tree of life, Harvard Univ. Press, London.
3. Mora C, Tittensor DP, Adl S, Simpson AGB, Worm B (2011). How Many Species Are There on Earth and in the Ocean? PLoS Biol 9(8): e1001127.doi:10.1371/journal.pbio.1001127
4. https://en.wikipedia.org/wiki/Animal (ath.27.1.2016)
Höfundur
Was the content helpful Back to top
Please tell us why: