Krúnukönguló (
Phidippus audax

)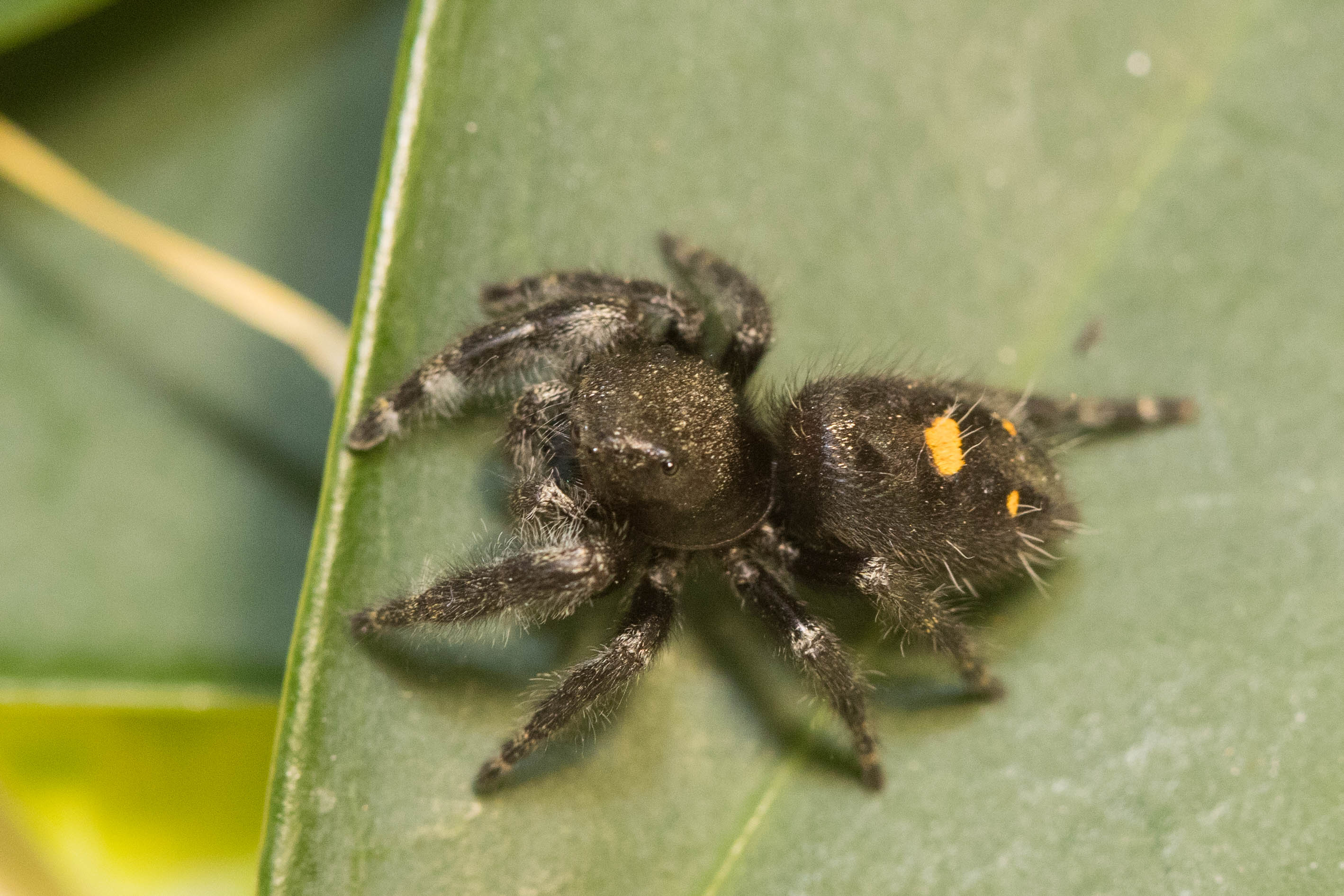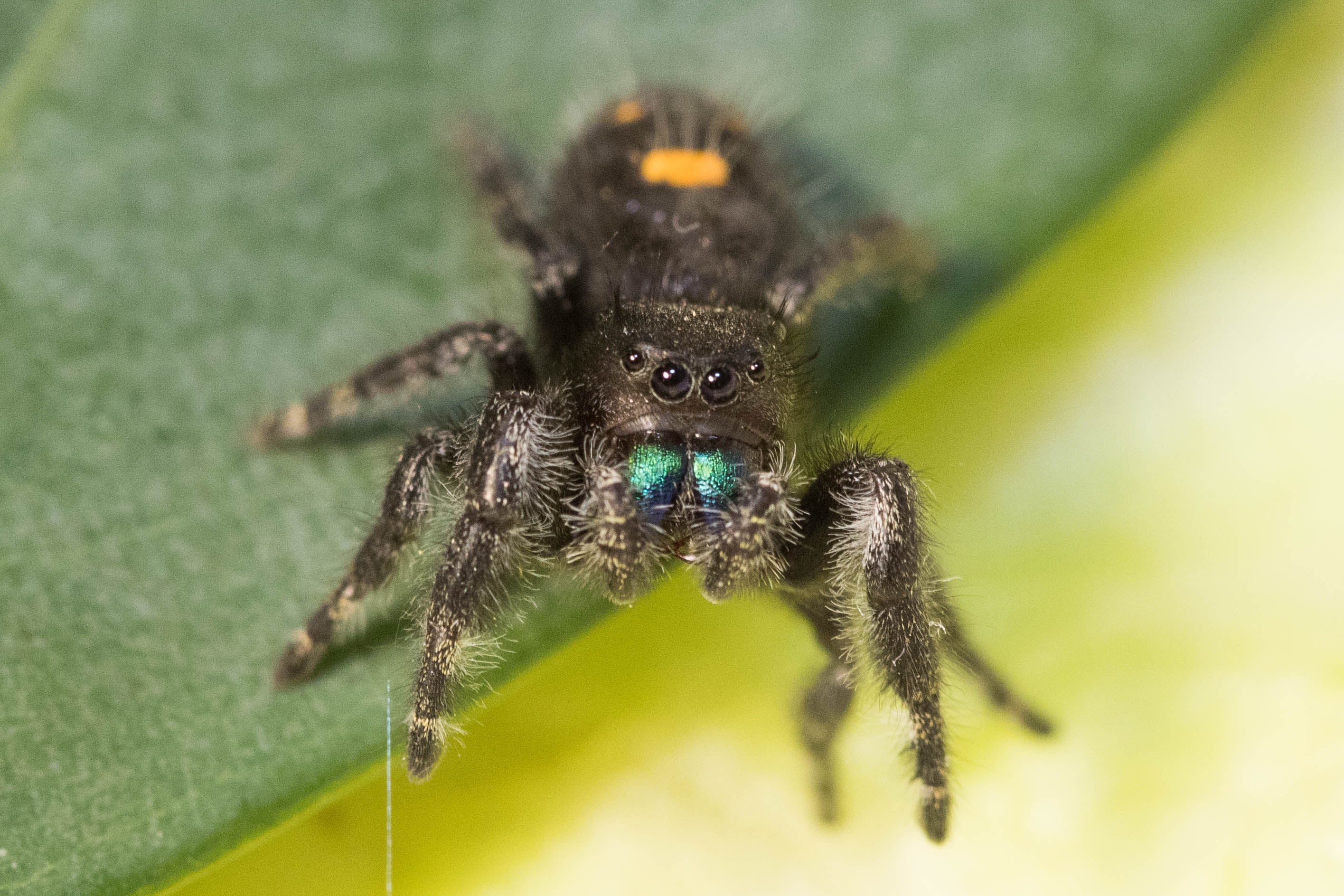 Útbreiðsla
Norður-Ameríka. Gjörvöll Bandaríkin, syðst í Kanada og suður eftir Mexíkó, einnig á Kúpu, hefur borist til Havaíeyja og sest þar að.
Ísland: Reykjavík, Kópavogur, Garðabær, Hafnarfjörður.
Lífshættir
Krúnukönguló er mjög algeng tegund í Norður-Ameríku. Hún finnst við fjölbreytilegar aðstæður, undir steinum og lurkum og hlaupandi um á trjábolum. Gerir sér spunahreiður til að leynast í og verpa. Veiðilendur eru í opnu umhverfi, á ökrum, í graslendi og görðum. Sést oft á girðingum og húsveggjum. Skökkkraftur köngulónna er mikill, allt að fimmtíuföld bollengdin.
Almennt
Í lok árs 2019 bárust krúnuköngulær til landsins með vínberjum sem flutt voru inn frá Norður-Ameríku. Bárust þær með vínberjaklösunum inn á nokkur heimili á höfuðborgarsvæðinu. Í öllum tilfellum mátti rekja atvikin til matvöruverslana af einni og sömu verslunarkeðjunni. Var því ljóst að verslunin sú hafði fengið farm með þessum áhugaverðu stökkköngulóm sem viðskiptavinirnir fengu í kaupbæti á aðventunni. Alls bárust sex eintök til skoðunar á Náttúrufræðistofnunar, allt ókynþroska dýr.
Krúnukönguló (10-16 mm) er ein af stærstu tegundum stökkköngulóa. Karldýr eru ívið minni en kvendýr. Bæði kyn eru svört að grunni til. Karldýr eru æði skrautleg. Svartur höfuðbolur er flatur með frekar snoðinn koll nema aftan til þar sem hann skrýðist langhærðum rauðgulum og gráum kransi. Minnir þetta óneitanlega á glæsilegan skalla karlmanns. Afturbolur er rauðgulur á baki með löngum ljósum hárum, svörtu hringmynstri og taumi aftur úr hringnum. Mjór hvítur taumur liggur með rauðgula skildinum framanverðum. Fætur eru svartir með ljósum og rauðgulum beltóttum háratoppum. Kvendýr eru að mestu svört með löngum ljósum háratoppum einkum á þreifurum, fótum og afturbol, Á milli augna og kjálka er ljós rönd. Á framanverðum afturbol og ljós bogi, á bakinu aftan við hann misstórir paraðir hvítir blettir, einn miðlægur stakur og stærstur, þríhyrningslaga. Ungviði er alsvart með svörtum hárum og lengri ljósum hárum hér og þar. Á afturbol er einn miðlægur rauðgulur þríhyrningslaga blettur og tveir paraðir minni blettir aftar. Blettirnir verða hvítir þegar ungviðið þroskast. Kjálkar á öllum stigum eru sindrandi blágrænir. Köngulærnar geta bitið fólk með sterkum kjálkum sínum en slíkt er fátítt og eru bitin skaðlítil.
Heimildir
Headstrom, R. 1973. Spiders of the United States. South Brunswick, A.S. Barnes and Company.
Wikipedia. Phidippus audax. (https://en.wikipedia.org/wiki/Phidippus_audax)
Höfundur
Was the content helpful Back to top
Please tell us why: