Snæugla (
Bubo scandiacus

)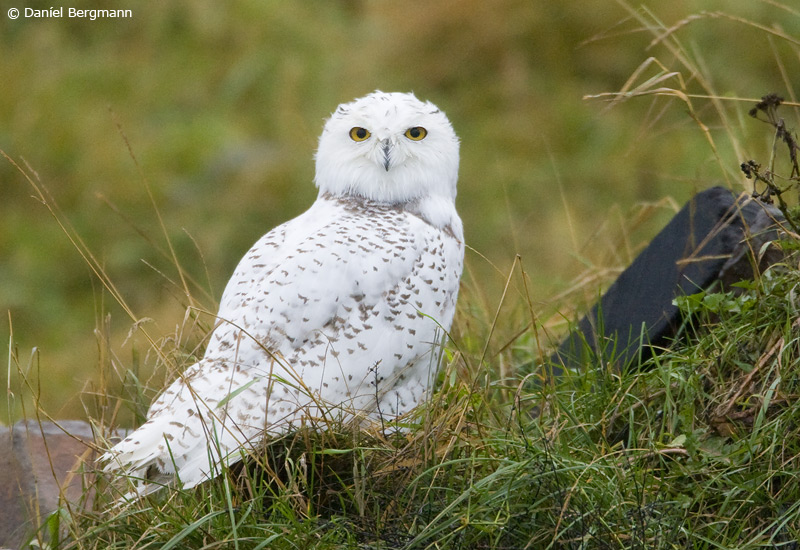 Útbreiðsla
Snæugla er hánorræn tegund sem verpur á túndrum umhverfis norðurhvel jarðar.
Stofn
Snæugla er árlegur gestur hér á landi og fáein pör hafa orpið hér öðru hverju frá því um 1930. Þekkt eru um 10 örugg varpóðul og sterkur grunur er um varp á fimm til sex stöðum að auki  (Náttúrufræðistofnun Íslands, óbirt gögn). Sum óðul hafa stundum verið í notkun árum og jafnvel áratugum saman en á öðrum er aðeins vitað um eina varptilraun. Eitt til tvö hreiður hafa fundist nær árlega á Vestfjörðum síðan 2008.
Válisti
VU** (í nokkurri hættu)
| Ísland | Evrópuválisti | Heimsválisti |
| --- | --- | --- |
| VU** | LC | VU |
Forsendur flokkunar
Kynslóðalengd (IUCN): 12,1 ár
Tímabil sem mat miðast við (3 kynslóðir):
Mjög fáar snæuglur verpa hér og ætti því stofninn að teljast í bráðri hættu (CR, <50 kynþroska einstaklingar). Hér er hún færð niður um tvo flokka samkvæmt leiðbeiningum IUCN enda miklar líkur á landnámi hennar hér og eins er vart hægt að tala um einangraðan stofn sem að auki er <1% af Evrópustofni. Snæugla er því flokkuð sem tegund í nokkurri hættu (VU).
Viðmið IUCN: (D)

D. Stofn mjög lítill eða takmarkaður.
Hættuflokkar Alþjóðanáttúruverndarsamtakanna (IUCN)
Viðmið IUCN um mat á válista (pdf)
Eldri válistar
Válisti 2000: Snæugla var flokkuð sem tegund í bráðri hættu (CR).
Verndun
Snæugla er friðuð samkvæmt lögum nr. 64/1994 um vernd, friðun og veiðar á villtum fuglum og villtum spendýrum.
Mikilvæg svæði
A3: Biome restricted species (Arctic)
B2: Species of European conservation concern (categories 1−3)
English summary
Bubo scandiacus is a very scarce breeder in Iceland with only a handful of pairs breeding annually. No IBAs are designated for this species.
Icelandic Red list 2018: Vulnerable (VU, D), downlisted from EN in 2000.
Höfundur
Was the content helpful Back to top
Please tell us why: