Dílaskarfur (
Phalacrocorax carbo

)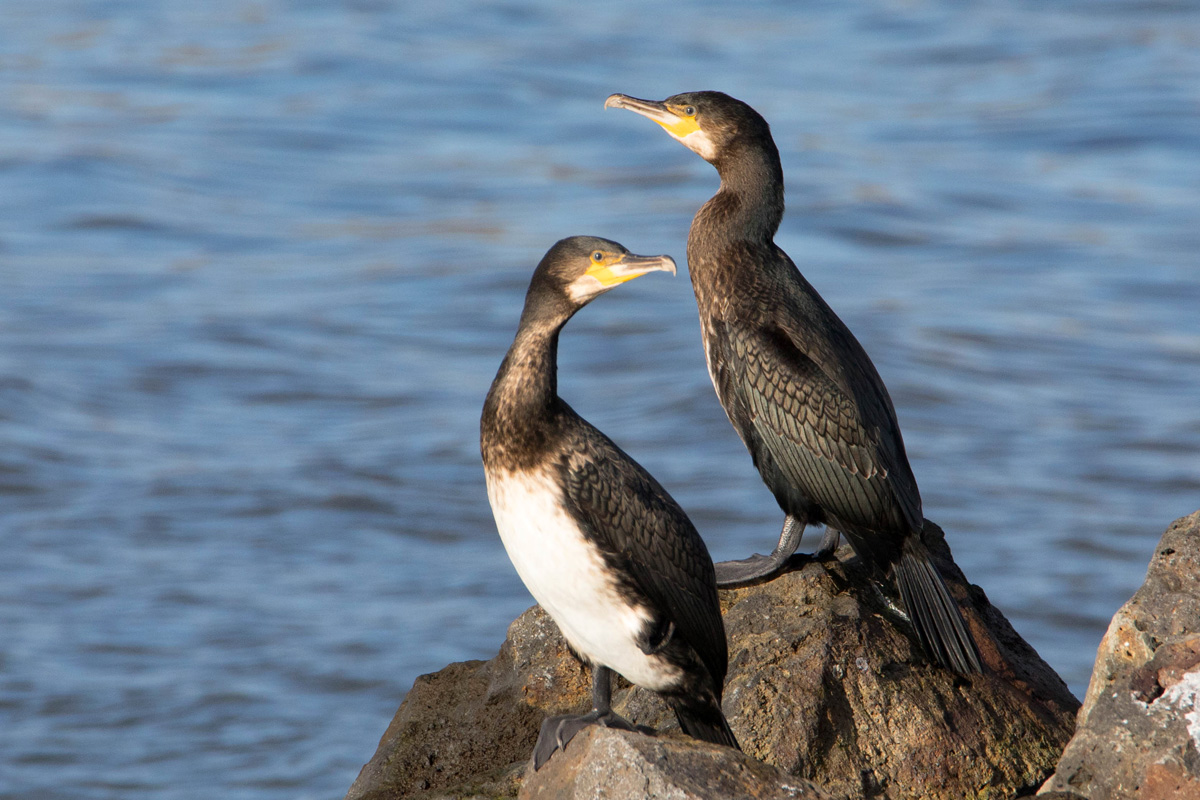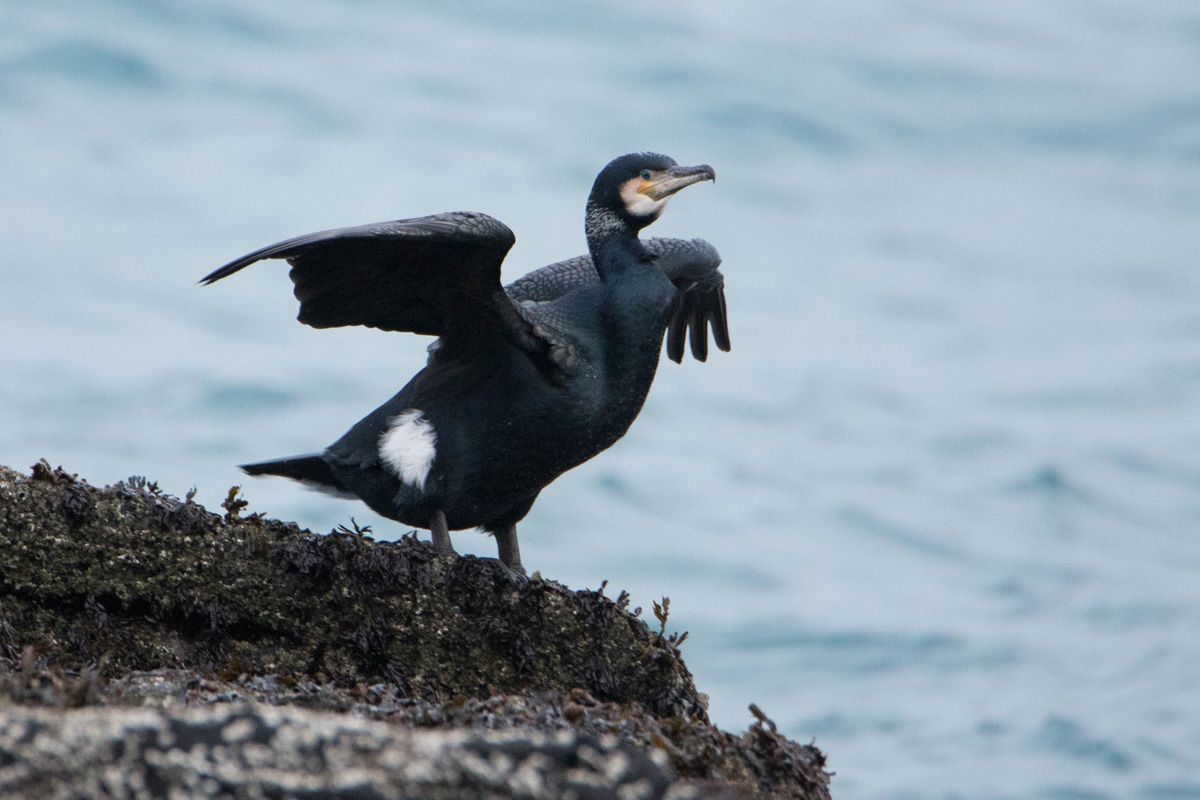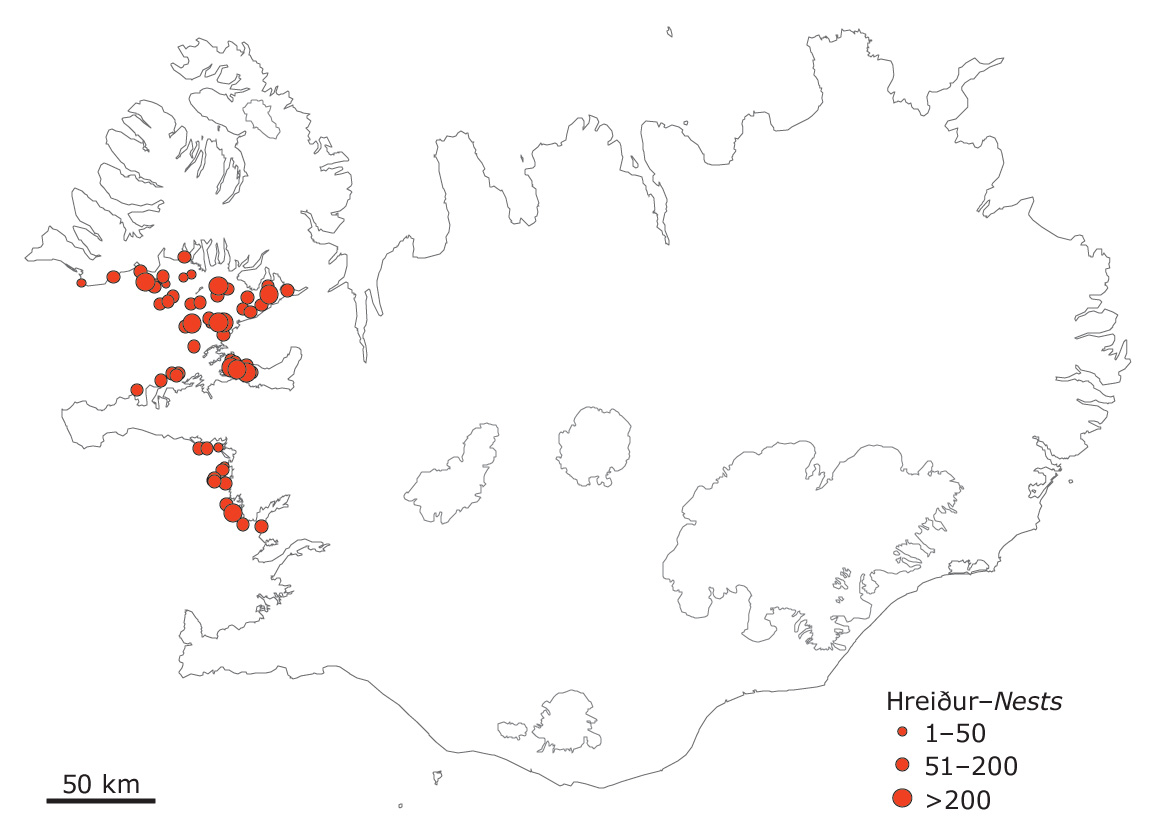 Útbreiðsla
Dílaskarfur verpur víða um heim. Hér er varpútbreiðslan að mestu bundin við Faxaflóa og Breiðafjörð en utan varptíma sjást fuglar með ströndum umhverfis landið og sums staðar með vötnum og ám langt frá sjó. Kunnugt er um varp í öllum landshlutum áður fyrr. Á síðustu árum hefur verið vaxandi varp við Húnaflóa og nýlega fannst dílaskarfsvarp í Vigur í Lóni (Arnþór Garðsson, munnlegar upplýsingar). Nær allur stofninn verpur þó í Breiðafirði og við norðanverðan Faxaflóa (sjá kort). Dílaskarfur er staðfugl.
Stofn
Fylgst hefur verið með dílaskarfsstofninum hér í meira en 40 ár og taldi hann um 4.500 pör árið 2007 (Arnþór Garðarsson 2008) og hafði þá vaxið mikið úr sögulegu lágmarki (2.346 hreiður árið 1995), var stærstur árið 2014 (5.752 hreiður) og hefur fækkað nokkuð síðan (4.581 hreiður árið 2017) (Guðmundur A. Guðmundsson 2017).
Válisti
LC (ekki í hættu)
| Ísland | Evrópuválisti | Heimsválisti |
| --- | --- | --- |
| LC | LC | LC |
Forsendur flokkunar
Kynslóðalengd (IUCN): 11,3 ár
Tímabil sem mat miðast við (3 kynslóðir): 1984-2017
Dílaskarfsstofninn er það stór (> 1.000 kynþroska fuglar), hefur vaxið mikið á viðmiðunartímabilinu og verpur það dreift að hann telst ekki í hættu (LC).
Hættuflokkar Alþjóðanáttúruverndarsamtakanna (IUCN)
Viðmið IUCN um mat á válista (pdf)
Eldri válistar
Válisti 2000: Dílaskarfur var ekki í hættu (LC).
Verndun
Dílaskarfur er friðaður samkvæmt lögum nr. 64/1994 um vernd, friðun og veiðar á villtum fuglum og villtum spendýrum.
Á takmörkuðum svæðum, þar sem eggja- eða ungataka dílaskarfs taldist til hefðbundinna hlunninda 1. júlí 1994, skulu friðunarákvæði laga nr. 64/1994 ekki vera til fyrirstöðu því að veiðirétthafi megi nytja þau hlunnindi eftirleiðis.
Samkvæmt reglugerð 456/1994 er heimilt er að veiða dílaskarf frá 1. september til 15. mars.
Mikilvæg svæði
Tvö svæði hér teljast alþjóðlega mikilvæg fyrir dílaskarf og á þeim varp allur stofninn árið 2007 (sjá töflu).
A4 i: Evrópa = 4.143 pör/pairs (Wetlands International 2016)
B1 i: NV-Evrópa (Ísland/Bretlandseyjar/Noregur) = 425 pör/pairs (Wetlands International 2016)
Töflur
Mikilvæg dílaskarfsvörp á Íslandi 2007 – Important colonies of Phalacrocorax carbo in Iceland in 2007.*
English summary
Phalacrocorax carbo is a rather rare breeding bird in W-Iceland with 4,581 pairs in 2017; but has increased considerably frorm an all time low in 1995 (2.346). The two main breeding areas are designated IBAs for this species and holding almost all of the population.
Icelandic Red list 2018: Least concern (LC) as in 2000.
Heimildir
Arnþór Garðarsson 2008. Dílaskarfsbyggðir 1994–2008. Bliki 29: 1–10.
Guðmundur A. Guðmundsson 2017. Skarfatal 2017. Framvinduskýrsla. Náttúrufræðistofnun Íslands, 3 bls. 
Wetlands International 2016. Waterbird Population Estimates. http://wpe.wetlands.org/search [skoðað 26. nóvember 2016].
Höfundur
Was the content helpful Back to top
Please tell us why: