Toppskarfur (
Phalacrocorax aristotelis

)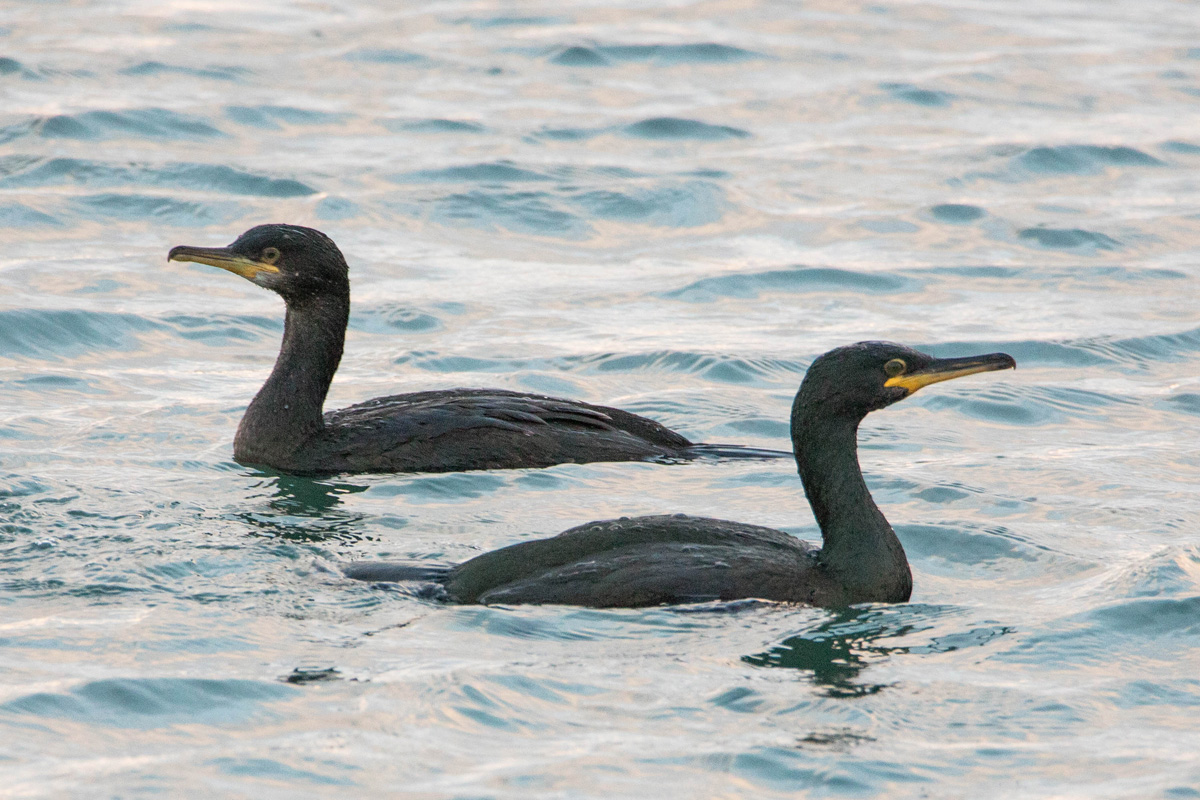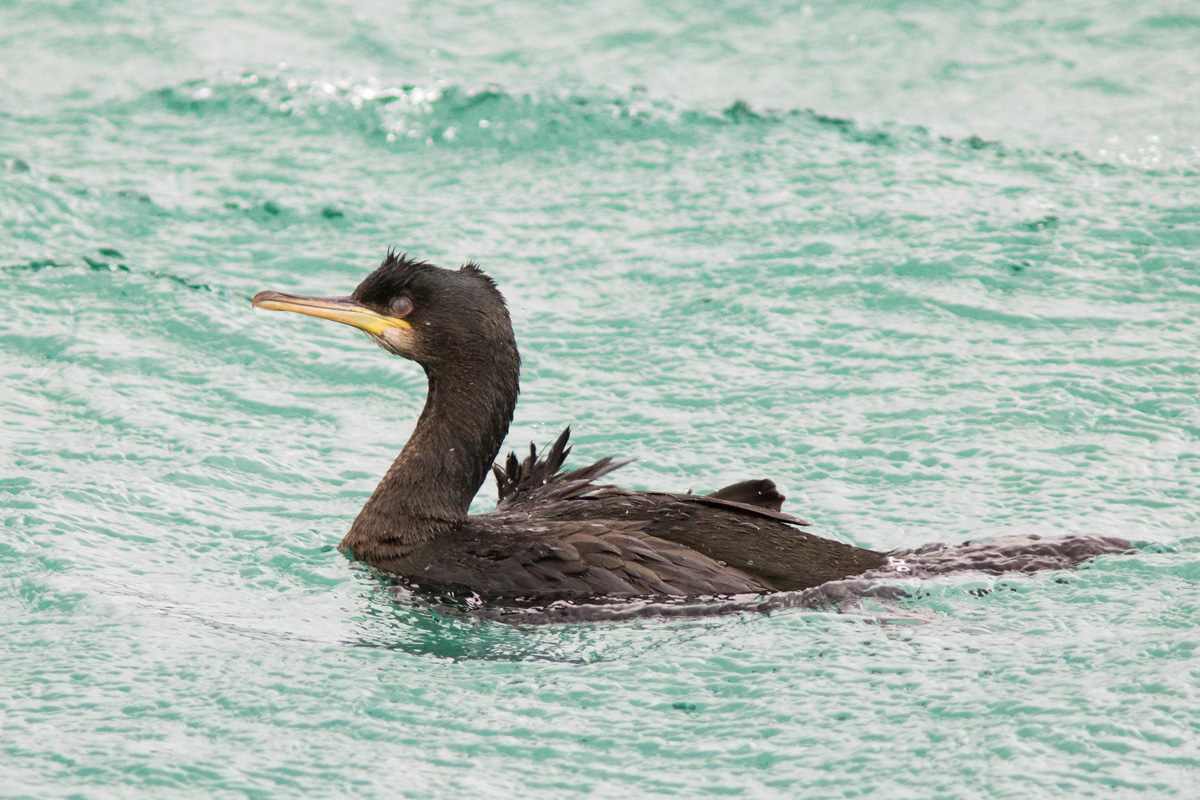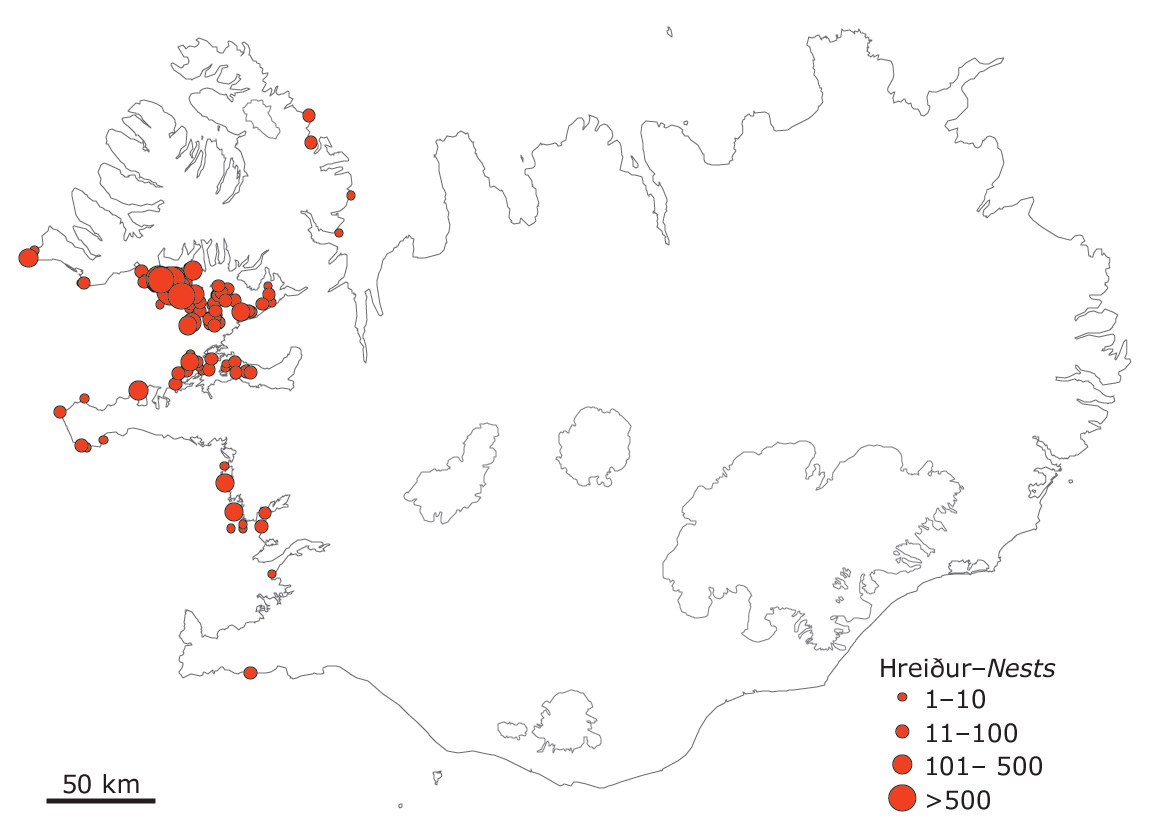 Útbreiðsla
Heimkynni toppskarfs eru að mestu í Evrópu. Hér verpur hann nær eingöngu vestanlands, frá Krýsuvíkurbergi norður og vestur um í Húnaflóa, langmest þó í Breiðafirði (sjá kort). Toppskarfur er alger staðfugl.
Stofn
Stofninn var um 3.800 pör árið 2017 og hefur sveiflast nokkuð (Guðmundur A. Guðmundsson 2017, Arnþór Garðarsson og Ævar Petersen 2009).
Válisti
VU (í nokkurri hættu)
| Ísland | Evrópuválisti | Heimsválisti |
| --- | --- | --- |
| VU | LC | LC |
Forsendur flokkunar
Kynslóðalengd (IUCN): 8,8 ár
Tímabil sem mat miðast við (3 kynslóðir): 1991–2017
Toppskarfsstofninn hefur verið metinn með því að telja nær öll varppör (hreiður) af og til frá 1975 (Arnþór Garðarsson og Ævar Petersen 2009). Á þessu tímabili hefur stofninn sveiflast nokkuð en minnkaði stöðugt frá 1994 þegar hreiðrin voru flest eða um 7.100. Árið 2017 fundust um 3.800 hreiður (Guðmundur A. Guðmundsson 2017) og nemur fækkunin um 47% eða um 2,7% á ári á þessum 23 árum sem eru aðeins færri en sem nemur þremur kynslóðum (26 ár). Talningar 1983–1984 (5.800 hreiður) og stofnþróun til 1994 gefa vísbendingu um að hreiðrin gætu hafa verið um 6.000 árið 1991. Því er fækkunin á viðmiðunartímabilinu (1991–2017) metin um 37% eða 1,76% á ári. Toppskarfur telst því í nokkurri hættu (VU, A2a). Vetrarvísitala sýnir nokkuð aðra mynd, um 25% fækkun frá um 1980 til 2005, en síðan hraða aukningu (um 100%) til 2014.
Viðmið IUCN: A2a

A2. Fækkun í stofni ≥30% á síðustu 10 árum eða síðustu þremur kynslóðum, hvort sem er lengra, þar sem fækkunin eða orsakir hennar hafa ekki stöðvast EÐA eru óþekktar EÐA eru óafturkræfar; byggt á athugun, mati, ályktun eða grun samkvæmt:
(a) beinni athugun.
Hættuflokkar Alþjóðanáttúruverndarsamtakanna (IUCN)
Viðmið IUCN um mat á válista (pdf)
Eldri válistar
Válisti 2000: Toppskarfur var ekki í hættu (LC).
Verndun
Toppskarfur er friðaður samkvæmt lögum nr. 64/1994 um vernd, friðun og veiðar á villtum fuglum og villtum spendýrum.
Á takmörkuðum svæðum, þar sem eggja- eða ungataka toppskarfs taldist til hefðbundinna hlunninda 1. júlí 1994, skulu friðunarákvæði laga nr. 64/1994 ekki vera til fyrirstöðu því að veiðirétthafi megi nytja þau hlunnindi eftirleiðis.
Samkvæmt reglugerð 456/1994 er heimilt er að veiða toppskarf frá 1. september til 15. mars.
Mikilvæg svæði
Eitt svæði hér telst alþjóðlega mikilvægt fyrir toppskarf (Breiðafjörður), en nær allur stofninn (um 99%) verpur á mikilvægum fuglasvæðum (sjá töflu).
A4 i: heimsstofn/global = 769 pör/pairs (Wetlands International 2016)
B1 i: N-Evrópa = 673 pör/pairs (BirdLife 2016c)
Töflur
Toppskarfsvörp á mikilvægum fuglasvæðum á Íslandi – Colonies of Phalacrocorax aristotelis in important bird areas in Iceland.*
English summary
Phalacrocorax aristotelis is a rather rare breeding bird in W-Iceland with 4,900 pairs in 2007; the main breeding area (Breiðafjörður) is designated IBA for this species and almost all the population breeds within IBAs.
Icelandic Red list 2018: Vulnerable (VU, A2a), uplisted from Least concern (LC) in 2000.
Heimildir
Arnþór Garðarsson og Ævar Petersen 2009. Íslenski toppskarfsstofninn. Bliki 30: 9–26.
BirdLife International 2016. IUCN Red List for birds. http://www.birdlife.org [skoðað 20.10.2016].
Guðmundur A. Guðmundsson 2017. Skarfatal 2017. Framvinduskýrsla. Náttúrufræðistofnun Íslands, 3 bls.
Wetlands International 2016. Waterbird Population Estimates. http://wpe.wetlands.org/search [skoðað 26. nóvember 2016].
Höfundur
Was the content helpful Back to top
Please tell us why: