Silfurmáfur (
Larus argentatus

)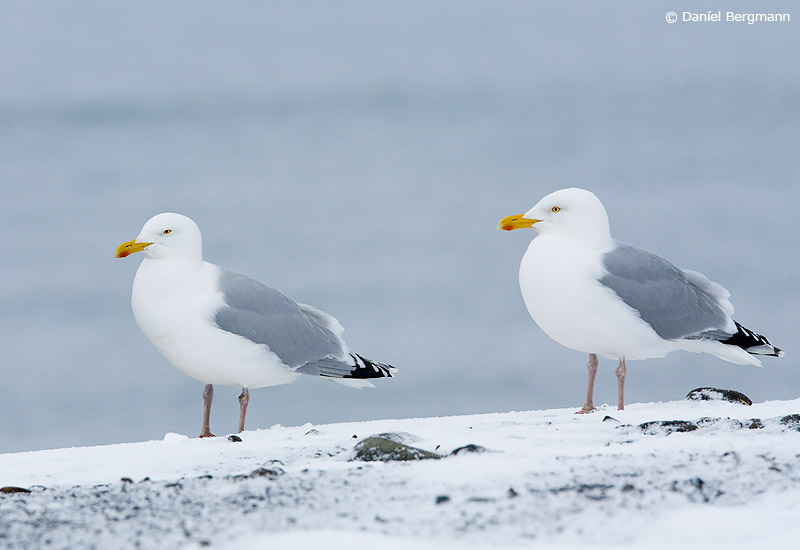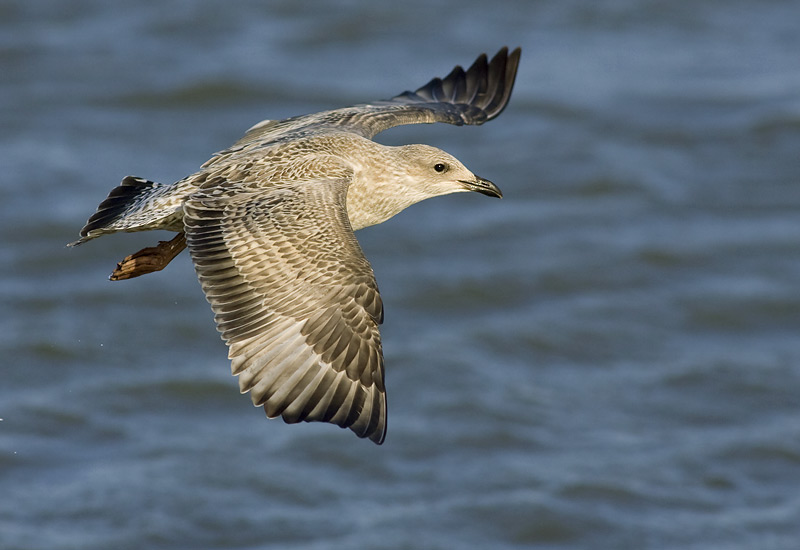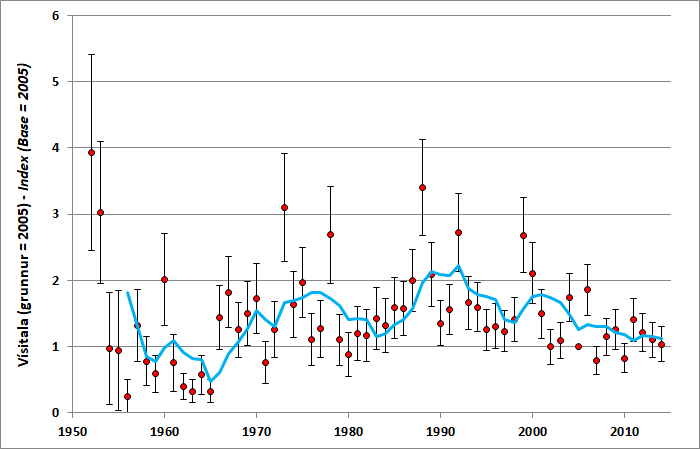 Útbreiðsla
Silfurmáfur er nú aðeins talinn verpa í norðvestanverðri Evrópu eftir að honum var skipt í nokkrar tegundir. Þeir sem verpa hér teljast til deilitegundarinnar L.a. argenteus auk fugla sem verpa á Bretlandseyjum og víðar í V-Evrópu. Hann hóf varp hér upp úr 1930 og hefur alla tíð verið algengastur á Austfjörðum. Silfurmáfur hefur auk þess kynblandast við hvítmáf og verpa slíkir fuglar víða um land (Agnar Ingólfsson 1970, Freydís Vigfúsdóttir o.fl. 2008). Silfurmáfur er hér staðfugl að mestu.
Stofn
Giskað hefur verið á að stofninn sé 5.000−10.000 pör (Umhverfisráðuneytið 1992). Eldra mat er 5.000 pör (Agnar Ingólfsson 1982), en aldrei hefur farið fram viðunandi talning á stofninum.
Válisti
NT (í yfirvofandi hættu)
| Ísland | Evrópuválisti | Heimsválisti |
| --- | --- | --- |
| NT | NT | LC |
Forsendur flokkunar
Kynslóðalengd (IUCN): 13 ár
Tímabil sem mat miðast við (3 kynslóðir): 1975–2014
Samkvæmt vetrarfuglavísitölu fjölgaði silfurmáfum um 100% frá því um 1965 til 1990 en fækkaði síðan um 50% til 2014 (sjá graf). Á viðmiðunartímabilinu (1975–2014) nam fækkunin um 23% eða 0,92% á ári. Samkvæmt þessu telst silfurmáfur í yfirvofandi hættu (NT), enda hefur honum fækkað 20-25% á sem nemur þremur kynslóðum. Annað viðmið úr þessum hættuflokki gæti einnig átt við: >10% fækkun á sama tímabili í stofni sem telur innan við 15.000 kynþroska einstaklinga.
Viðmið IUCN
Stofn er talinn hafa minnkað um 20-25% á tímabili sem nemur þremur síðustu kynslóðum.
Stofn er talinn hafa minnkað um 10% á tímabili sem nemur þremur síðustu kynslóðum, heldur áfram að minnka og er talinn um 15.000 fullþroska einstaklingar.
Hættuflokkar Alþjóðanáttúruverndarsamtakanna (IUCN)
Viðmið IUCN um mat á válista (pdf)
Eldri válistar
Válisti 2000: Silfurmáfur var ekki í hættu (LC).
Verndun
Silfurmáfur er friðaður samkvæmt lögum nr. 64/1994 um vernd, friðun og veiðar á villtum fuglum og villtum spendýrum.
Samkvæmt reglugerð 456/1994 er heimilt er að veiða silfurmáf allt árið.
Mikilvæg svæði
Silfurmáfi hefur fækkað töluvert í Evrópu og er á válista sem tegund í yfirvofandi hættu (NT; BirdLife International 2015).
Engar silfurmáfsbyggðir hér teljast alþjóðlega mikilvægar.
A4 i: Evrópa = 8.233 pör/pairs (Wetlands Int. 2016)
B1 i: Ísland/V-Evrópa = 3.400 pör/pairs (Wetlands Int. 2016)
English summary
Larus argentatus colonized Iceland in the 1920s and is most common in E-Iceland. The population is roughly estimated 5,000−10,000 pairs. No sites in Iceland meet IBA criteria for this species.
Icelandic Red list 2018: Near threatened (NT), uplisted from Least concern (LC) in 2000.
Heimildir
Agnar Ingólfsson 1970. Hybridization of Glaucous Gulls Larus hyperboreus and Herring Gulls Larus argentatus in Iceland. Ibis 112: 340–362.
Agnar Ingólfsson 1982. Máfar, kjóar og skúmar. Í Arnþór Garðarsson, ritstj. Fuglar. Rit Landverndar 8, bls. 61–76. Reykjavík: Landvernd.
Birdlife International 2015. European red list of birds. Luxembourg: Official publication of the European communities. http://datazone.birdlife.org/userfiles/file/Species/erlob/EuropeanRedListOfBirds_June2015.pdf [skoðað 20.10.2016].
Freydís Vigfúsdóttir, Snæbjörn Pálsson og Agnar Ingólfsson 2008. Hybridization of Glaucous Gull (Larus hyperboreus) and Herring Gull (Larus argentatus) in Iceland: mitochondrial and microsatellite data. Philosophical Transactions of the Royal Society B Biological Sciences 363: 2851–2860. doi:  10.1098/rstb.2008.0042.
Umhverfisráðuneytið 1992. Iceland: national report to UNCED. Reykjavík: Umhverfisráðuneytið.
Wetlands International 2016. Waterbird Population Estimates. http://wpe.wetlands.org/search[skoðað 26. nóvember 2016].
Höfundur
Was the content helpful Back to top
Please tell us why: