Margæs (
Branta bernicla

)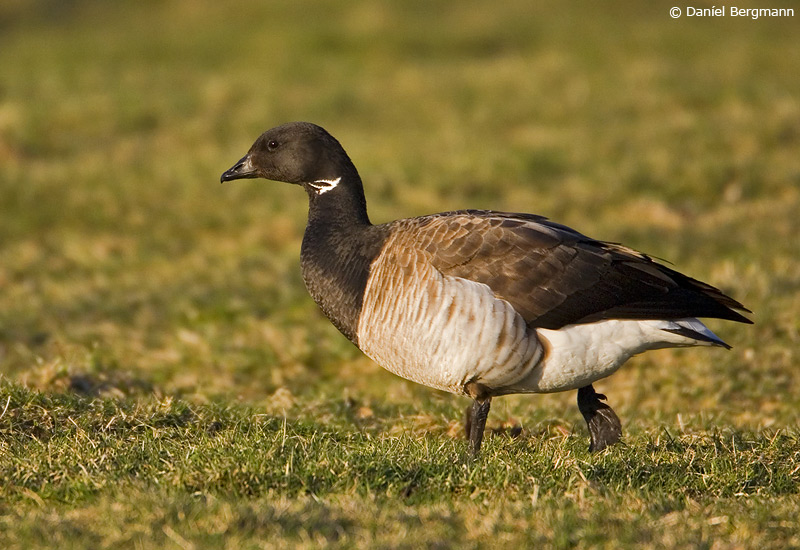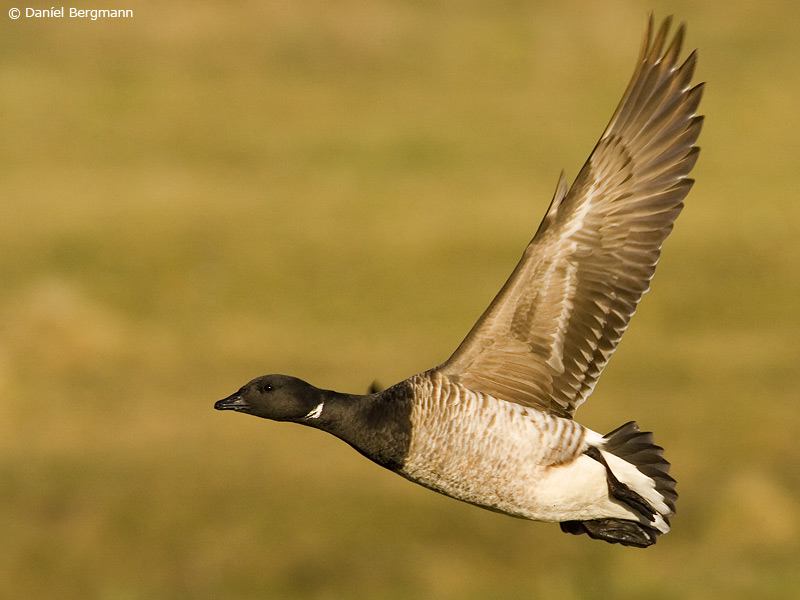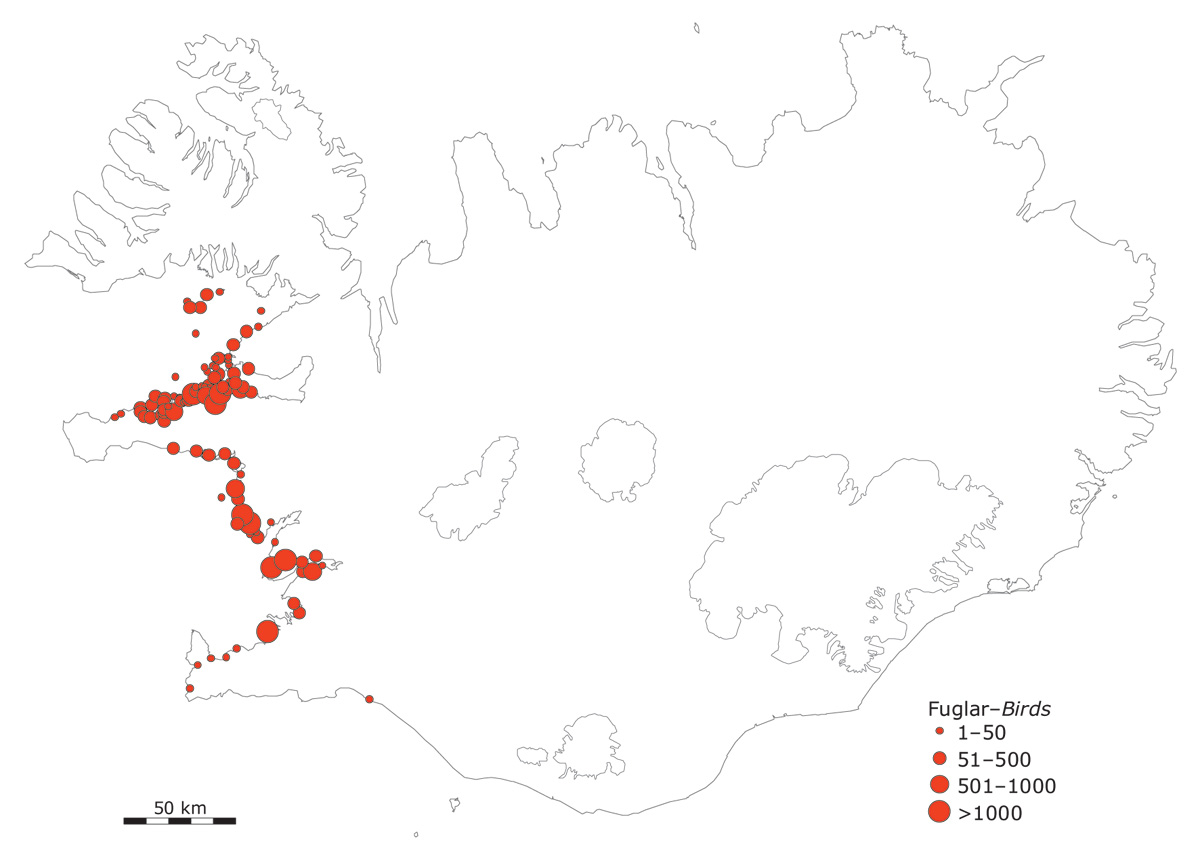 Útbreiðsla
Margæsir verpa í heimskautalöndunum nánast allt í kringum norðurhvel jarðar. Deilitegundin B.b. hrota verpur í NA-Kanada og kemur hér við vor og haust (Faxaflói–Breiðafjörður; sjá kort) á leið sinni til og frá vetrarstöðvum á Bretlandseyjum, aðallega Írlandi.
Stofn
Þessi stofn taldi um 37.000 fugla haustið 2016 (Kendrew Colhoun, óbirt heimild) en fjöldinn veltur á varpárangri sem er afar misjafn frá ári til árs.
Válisti
LC (ekki í hættu)
| Ísland | Evrópuválisti | Heimsválisti |
| --- | --- | --- |
| LC | LC | LC |
Forsendur flokkunar
Kynslóðalengd (IUCN): 10,9 ár
Tímabil sem mat miðast við (3 kynslóðir): 1984–2017
Margæsastofninn hefur vaxið á viðmiðunartímabilinu og er auk þess það stór að hann telst ekki í hættu (LC).
Hættuflokkar Alþjóðanáttúruverndarsamtakanna (IUCN)
Viðmið IUCN um mat á válista (pdf)
Eldri válistar
Válisti 2000: Margæs var ekki í hættu (LC).
Verndun
Margæs er friðuð samkvæmt lögum nr. 64/1994 um vernd, friðun og veiðar á villtum fuglum og villtum spendýrum.
Mikilvæg svæði
Að minnsta kosti fimm svæði eru alþjóðlega mikilvæg fyrir margæsir sem fara hér um og nær allar margæsir dveljast á mikilvægum fuglasvæðum á ferð sinni um landið, bæði á vorin (sjá töflu; Arnþór Garðarsson og Guðmundur A. Guðmundsson 1997) og haustin (Náttúrufræðistofnun, óbirt gögn).
A4 i: Evrópa/NA-Kanada = 2.700 fuglar/birds (Wetlands International 2016)
B1 i: NA-Kanada/Grænland/Ísland/Bretlandseyjar = 370 fuglar/birds (Wetlands International 2016, uppfært/updated)
Töflur
Meðalfjöldi margæsa á mikilvægum viðkomusvæðum á Íslandi, 1990−2010 – Number of Branta bernicla in important staging areas in Iceland in 1990−2010.*
Svæði
Area
Svæðisnúmer
Area code
Árstími
Season
Fjöldi (fuglar)
Number (birds)
Ár
Year**
% af íslenskum stofni
% of Icelandic popul.
Alþjóðlegt mikilvægi
International importance
Álftanes–Skerjafjörður
FG-V_2
P
2.473
1990-2010
8,8
A4i, B1i
Blikastaðakró–Leiruvogur
FG-V_4
P
397
1990-2010
1,4
B1i
Hvalfjörður
FG-V_6
P
1.431
1990-2010
5,1
B1i
Blautós
FG-V_7
P
1.354
1990-2010
4,8
B1i
Grunnafjörður
FG-V_8
P
2.927
1990-2010
10,5
A4i, B1i
Borgarfjörður–Löngufjörur 
FG-V_10
P
5.071
1990-2010
18,1
A4i, B1i
Breiðafjörður 
FG-V_11
P
15.522
1990-2010
55,4
A4i, B1i
Alls–Total
 
 
29.175
 
(100)
 
*Byggt á Guðmundur A. Guðmundsson og Arnþór Garðarsson, óbirt heimild
**Talið/Surveyed: 1990, 1995, 2005, 2006, 2008, 2010
English summary
The Branta bernicla hrota population passing through Iceland numbers 35,000 birds in 2017. Five areas are designated IBAs, holding almost all af the population.
Icelandic Red list 2018: Least concern (LC) as in 2000.
Heimildir
Arnþór Garðarsson og Guðmundur A. Guðmundsson 1997. Numbers of Light-bellied Brent Geese (Branta bernicla hrota) staging in Iceland in spring. Wildfowl 47: 68−72.
Wetlands International 2016. Waterbird Population Estimates. http://wpe.wetlands.org/search [skoðað 26. nóvember 2016]
Was the content helpful Back to top
Please tell us why: