Toppönd (
Mergus serrator

)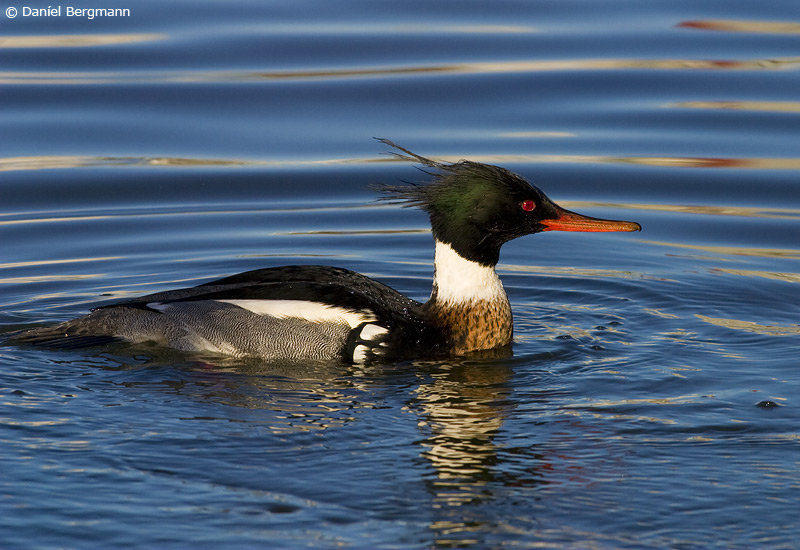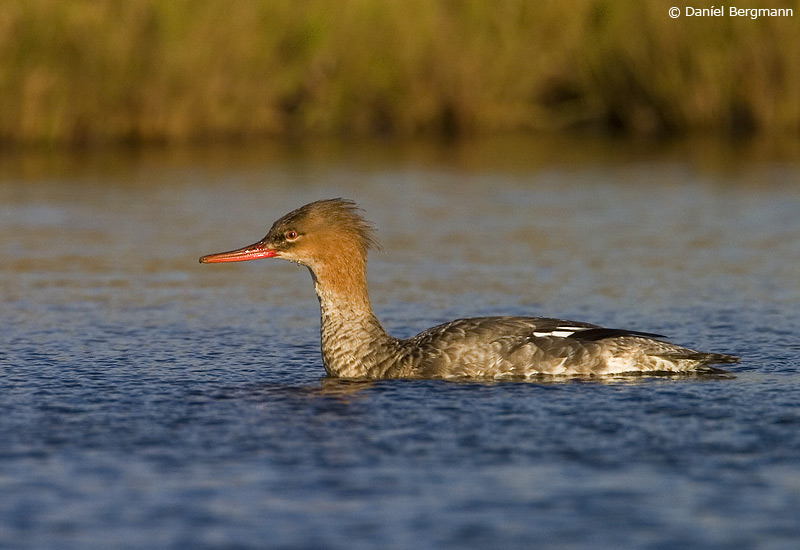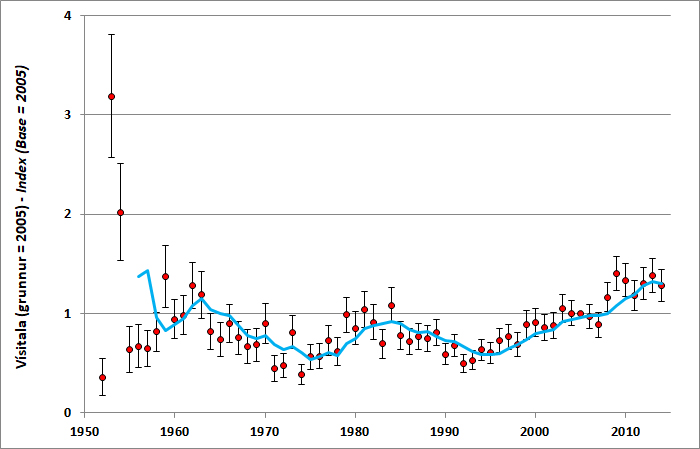 Útbreiðsla
Toppönd verpur í N-Ameríku, en einnig á Grænlandi, í Evrópu og Asíu. Er staðfugl að mestu.
Stofn
Toppönd er allalgeng á Íslandi og hefur verið giskað á að 2.000−4.000 pör verpi hér (Umhverfis­ráðuneytið 1992). Er staðfugl að mestu og er nær eingöngu á sjó á vetrum; alls um 10.000 fuglar (Arnþór Garðarsson 2009).
Válisti
LC (ekki í hættu)
| Ísland | Evrópuválisti | Heimsválisti |
| --- | --- | --- |
| LC | LC | LC |
Forsendur flokkunar
Kynslóðalengd (IUCN): 7,3 ár
Tímabil sem mat miðast við (3 kynslóðir): 22 ár.
Toppandarstofninn virðist hafa vaxið verulega á undanförnum árum (vetrarvísitala tvöfaldaðist 1992–2014) og er auk þess það stór að hann er ekki talinn vera í hættu (LC) (sjá graf).
Hættuflokkar Alþjóðanáttúruverndarsamtakanna (IUCN)
Viðmið IUCN um mat á válista (pdf)
Eldri válistar
Válisti 2000: Toppönd var ekki í hættu (LC).
Staða á heimsvísu
Toppönd  hefur fækkað töluvert í Evrópu og er því skráð þar á válista sem tegund í yfirvofandi hættu (NT; BirdLife International 2015).
Verndun
Toppönd er friðuð samkvæmt lögum nr. 64/1994 um vernd, friðun og veiðar á villtum fuglum og villtum spendýrum.
Á takmörkuðum svæðum, þar sem andarvarp er mikið, skal veiðirétthafa heimilt að taka egg frá toppönd. Við slíka eggjatöku skulu ávallt skilin eftir minnst fjögur egg í hverju hreiðri. Eggin má hvorki bjóða til sölu, selja, kaupa, gefa né þiggja að gjöf.
Samkvæmt reglugerð 456/1994 er heimilt er að veiða toppönd frá 1. september til 15. mars.
Mikilvæg svæði
Tvö varpsvæði toppandar hér á landi eru alþjóðlega mikilvæg, Breiðafjörður og Mývatn (44. tafla), en engir viðkomu-, fjaðrafellistaðir eða vetrarstöðvar falla í þann flokk. Stærstu fellihóparnir, í Grunnafirði og á Höfðavatni í Skagafirði, slaga þó upp í viðmiðunarmörkin.
A4 i: Evrópa/Grænland = 1.140 fuglar/birds; 380 pör/pairs (Wetlands International 2016)
B1 i: A-Grænland/Ísland/Bretlandseyjar = 970 fuglar/birds; 323 pör/pairs (Wetlands International 2016)
Töflur
Toppandarvarp á mikilvægum fuglasvæðum á Íslandi – Breeding Mergus serrator in important bird areas in Iceland.
Svæði
Area
Svæðisnúmer
Area code
Árstími
Season
Fjöldi (pör)
Number (pairs)
Ár
Year
% af íslenskum stofni
% of Icelandic popul.
Alþjóðlegt mikilvægi
International importance
Borgarfjörður–Löngufjörur
FG-V_10
B
50
2016
1,7
 
Breiðafjörður 
FG-V_11
B
450
2016
15,0
A4i, B1i, B2
Mývatn–Laxá1
VOT-N_11
B
516
2006–2015
17,2
A4i, B1i, B2
Öxarfjörður2
VOT-N_12
B
30
2016
1,0
 
Melrakkaslétta
FG-N_4
B
50
2016
1,7
 
Suðurlandsundirlendi
VOT-S_3
B
300
2016
10,0
 
Alls–Total
 
 
1.912
 
46,5
 
1Náttúrurannsóknastöðin við Mývatn, óbirt gögn/unpubl. data
2Náttúrustofa Norðausturlands, óbirt gögn/unpubl. data
 
English summary
The breeding population of Mergus serrator in Iceland is roughly estimated 2,000‒4,000 pairs and a winter survey resulted in 10,000 birds. Two breeding areas are designated IBAs and almost half of the population may breed in such areas.
Icelandic Red list 2018: Least concern (LC) as in 2000.
Heimildir
Arnþór Garðarsson 2009. Fjöldi æðarfugls, hávellu, toppandar og stokkandar á grunnsævi að vetri. Bliki 30: 49–54.
Birdlife International 2015. European red list of birds. Luxembourg: Official publication of the European communities. http://datazone.birdlife.org/userfiles/file/Species/erlob/EuropeanRedListOfBirds_June2015.pdf[skoðað 20.10.2016].
Umhverfisráðuneytið 1992. Iceland: national report to UNCED. Reykjavík: Umhverfisráðuneytið.
Wetlands International 2016. Waterbird Population Estimates. http://wpe.wetlands.org/search[skoðað 26. nóvember 2016].
Höfundur
Was the content helpful Back to top
Please tell us why: