Sanderla (
Calidris alba

)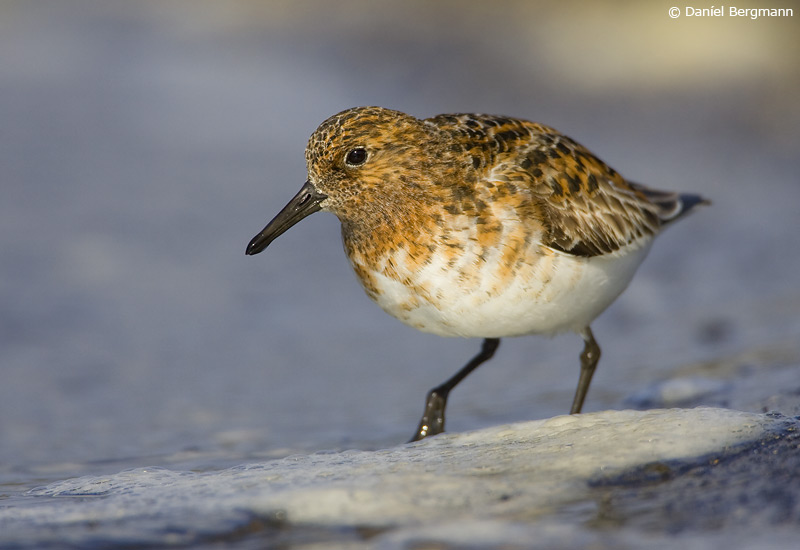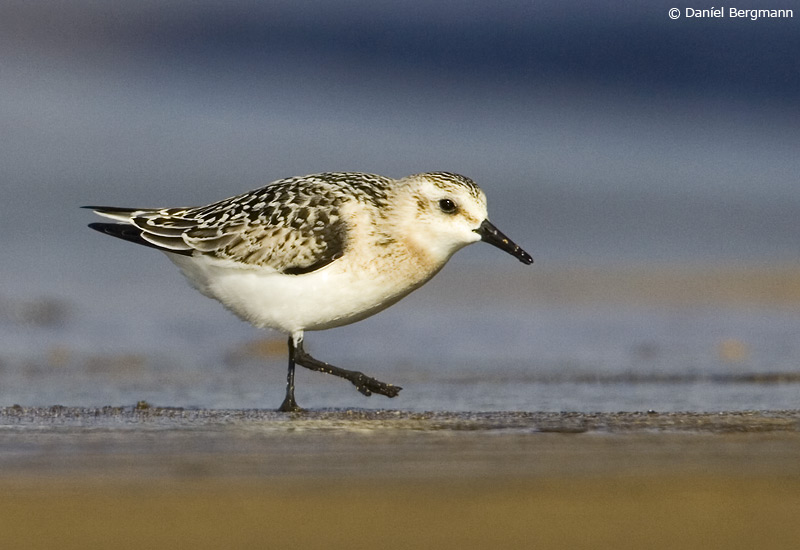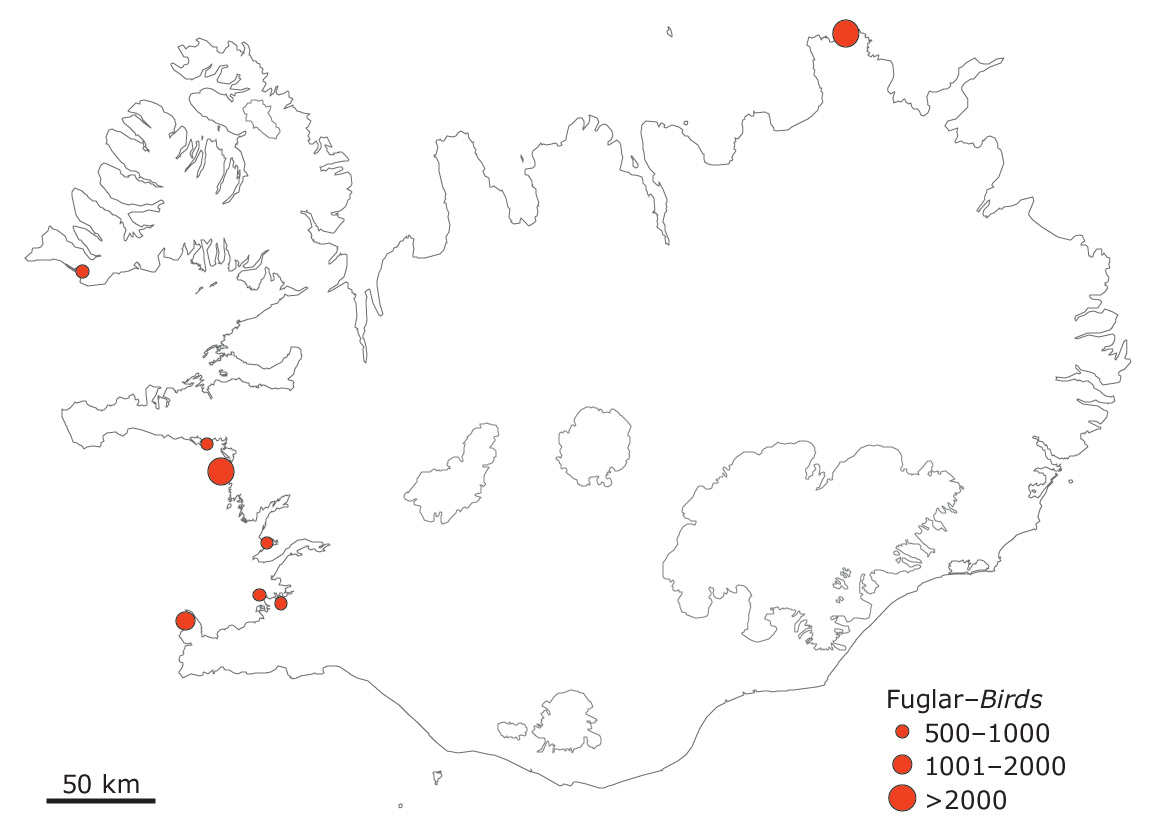 Útbreiðsla
Sanderla er hánorrænn varpfugl sem verpur hér og hvar í heimskautalöndum en er strandfugl á vetrum í tempraða beltinu, nánast á öllu suðurhveli. Grænlenskir fuglar, sem hafa vetursetu á Atlantshafsströnd Evrópu og Afríku, fara hér um vor og haust, einkum Vesturland og í auknum mæli að því er virðist um Melrakkasléttu í seinni tíð. Þessi stofn var metinn um 120 þúsund fuglar milli 1990 og 2000 (Stroud o.fl. 2004) en nú um 200 þúsund fuglar enda hefur þeim fjölgað um 4% á ári um langt skeið (van Roomen o.fl. 2015). Hugsanlegt er að fuglar sem verpa í NA-Kanada fari hér eitthvað um, því sumir þeirra virðast notað A-Atlantshafsfarleiðina (Reneerkens o.fl. 2009). Allar sanderlur sem virtust á farflugi á SV-landi stefndu þó í NNA, þ.e. í átt að varpstöðvum á NA-Grænlandi (Guðmundsson og Lindström 1992).
Stofn
Hér á landi hafa mest verið taldar >8.000 sanderlur sama árið (Guðmundur A. Guðmundsson og Arnþór Garðarsson 1993). Hver og einn fugl virðist hafa hér stutta viðdvöl (3 dagar að meðaltali) og vegna mikillar umsetningar getur fjöldi fugla sem fer um verið mun meiri en hæstu talningar gefa til kynna (Scott o.fl. 2004).
Válisti
LC (ekki í hættu)
| Ísland | Evrópuválisti | Heimsválisti |
| --- | --- | --- |
| LC | LC | LC |
Forsendur flokkunar
Kynslóðalengd (IUCN): 8,1 ár
Tímabil sem mat miðast við (3 kynslóðir):
Sá sanderlustofn sem fer hér um er stór og hefur vaxið samkvæmt athugunum erlendis. Hann er því ekki talinn í hættu (LC).
Hættuflokkar Alþjóðanáttúruverndarsamtakanna (IUCN)
Viðmið IUCN um mat á válista (pdf)
Eldri válistar
Válisti 2000: Sanderla var ekki í hættu (LC).
Verndun
Sanderla er friðuð samkvæmt lögum nr. 64/1994 um vernd, friðun og veiðar á villtum fuglum og villtum spendýrum.
Mikilvæg svæði
Auk reglulegra viðkomustaða eiga sanderlur það til að sjást jafnvel mörg hundruðum saman á stöðum sem þær virðast annars nota afar stopult hér á landi (sjá kort). Sanderlum sem fara um Sandgerði hefur fækkað mikið frá 1996, líklega vegna mikillar skerðingar á fjörum við bæinn (Renerkeens o.fl. 2009). Á sama tíma hefur umferð fugla um Melrakkasléttu stóraukist (Guðmundur Örn Benediktsson, óbirt heimild). Flokkun mikilvægra staða fyrir sanderlu er því örðug en a.m.k. þrjú svæði teljast alþjóðlega mikilvægir viðkomustaðir sanderlu hér á landi (sjá töflu).
A4 i: A-Atlantshafsfarleið/E-Atlantic flyway/V- og S-Afríka (vetrarstofn/winter c. 1990) = 2.000 fuglar/birds ­(Wetlands  International 2016)
B1 i: A4 i
Töflur
Mikilvæg viðkomusvæði sanderlu að vori – Important staging areas of Calidris alba in spring in Iceland.
English summary
Calidris alba is a passage migrant in Iceland, but numbers and the use of staging sites are poorly known. Tentatively, four staging sites are designated IBAs for this species.
Icelandic Red list 2018: Least concern (LC) as in 2000.
Heimildir
Guðmundsson, G.A. og Å. Lindström 1992. Spring migration of Sanderlings Calidris alba through SW Iceland: wherefrom and whereto? Ardea 80: 315–326.
Guðmundur A. Guðmundsson og Arnþór Garðarsson 1993. Numbers, geographic distribution and habitat utilization of waders (Charadrii) in spring on the shores of Iceland. Ecography 16: 82–93.
Reneerkens, J., A. Benhoussa, H. Boland, M. Collier, K. Grond, K. Günther, G.Þ. Hallgrimsson, J. Hansen, W. Meissner, B. de Meulenaer, Y. Ntiamoa-Baidu, T. Piersma, M. Poot, M. van Roomen, R.W. Summers, P.S. Tomkovich og L.G. Underhill 2009. Sanderlings using African–Eurasian flyways: a review of current knowledge. Wader Study Group Bull. 116: 2–20.
Scott, I, P.I Mitchell, G.A. Gudmundsson, M. Eaton, R.M. Ward og P.R. Evans 2004. Using radio-transmitters to help monitor the spring migration of Sanderling Calidris alba: why do some birds stop in Iceland? Bird Study 51: 83–86.
Stroud, D.A., N.C. Davidson, R. West, D.A. Scott, L. Haanstra, O. Thorup, B. Ganter og S. Delany (tóku saman af hálfu International Wader Study Group) 2004. Status of migratory wader populations in Africa and Western Eurasia in the 1990s. International Wader Studies 15: 1–259.
van Roomen M., S. Nagy, R. Foppen, T. Dodman, G. Citegetse og A. Ndiaye 2015. Status of coastal waterbird populations in the East Atlantic Flyway. With special attention to flyway populations making use of the Wadden Sea. Leeuwarden, Hollandi: Programme Rich Wadden Sea; Nijmegen, Hollandi: Sovon; Wageningen, Hollandi: Wetlands International; Cambridge, Englandi: BirdLife International og Wilhelmshaven, Þýskalandi: Common Wadden Sea Secretariat. https://www.waddensea-worldheritage.org/sites/default/files/2015_Status%20coastal%20birds.pdf [skoðað 19.11.2020]
Wetlands International 2016. Waterbird Population Estimates. http://wpe.wetlands.org/search [skoðað 26. nóvember 2016].
Höfundur
Was the content helpful Back to top
Please tell us why: