Fjöruspói (
Numenius arquata

)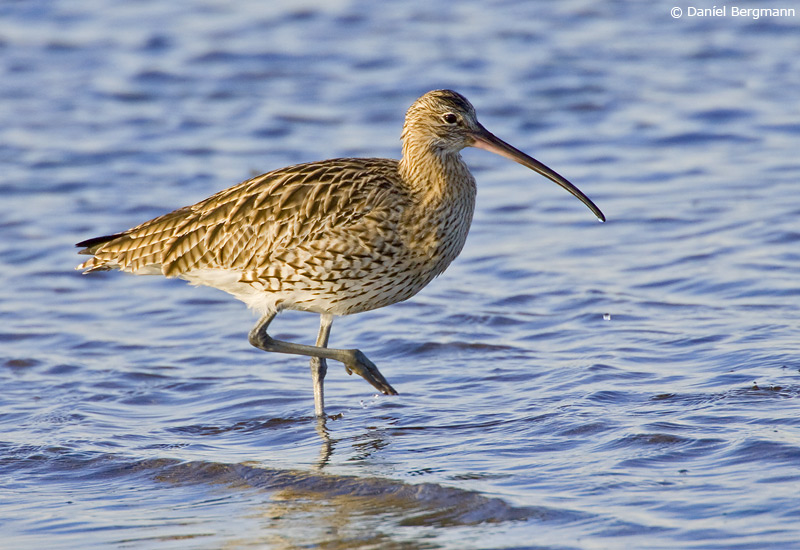 Útbreiðsla
Fjöruspói verpur í Evrópu og Asíu austur til Kína. Hann er hér sjaldgæfur vetrargestur og verpur öðru hverju hér á landi (Whitfield o.fl. 1989, Jóhann Óli Hilmarsson 2017).
Stofn
Nokkrir tugir fugla hafa vetursetu á Suðvestur-, Vestur- og Suðausturlandi og er uppruni þeirra óþekktur. 
Válisti
CR (tegund í bráðri hættu)
| Ísland | Evrópuválisti | Heimsválisti |
| --- | --- | --- |
| CR | VU | NT |
Forsendur flokkunar
Kynslóðalengd (IUCN): 10,4 ár
Tímabil sem mat miðast við (3 kynslóðir):
Nokkur dulúð hvílir yfir fjöruspóum hér á landi en þeir hafa sést hér reglulega á veturna á sömu slóðum um langa hríð. Uppruni þeirra fugla er óljós. Jafnframt hafa fjöruspóar orpið á NA-landi og SA-landi og e.t.v. víðar. Álitamál er hversu reglulegt það varp er en pörin geta varla verið mörg og er varpstofninn talinn innan við 50 kynþroska einstaklingar. Samkvæmt þessu ætti fjöruspói að flokkast sem tegund í bráðri hættu (CR, D). Hér verður ekki hróflað við þeirri flokkun að sinni, né hún færð niður vegna hugsanlegra tengsla íslenskra fjöruspóa við aðra stofna.
Viðmið IUCN: D

D. Stofn talinn minni en 50 kynþroska einstaklingar.
Hættuflokkar Alþjóðanáttúruverndarsamtakanna (IUCN)
Viðmið IUCN um mat á válista (pdf)
Eldri válistar
Válisti 2000: Fjöruspói var flokkaður sem tegund í bráðri hættu (CR).
Staða á heimsvísu
Fækkað hefur í lykilstofnum fjöruspóa (Pearce-Higgins o.fl. 2017) og er hann nú á heimsválista sem tegund í yfirvofandi hættu (NT) og á Evrópuválista sem tegund í nokkurri hættu (VU), en þar hefur honum fækkað hratt (BirdLife International 2015).
Verndun
Fjöruspói er friðaður samkvæmt lögum nr. 64/1994 um vernd, friðun og veiðar á villtum fuglum og villtum spendýrum.
Mikilvæg svæði
Engir staðir hér á landi teljast alþjóðlega mikilvægir fyrir fjöruspóa.
A4 i: Evrópa = 7.400 fuglar/birds; 2.467 pör/pairs ­(Wetlands International 2016)
B1 i: A4 i
English summary
Numenius arquata is a rare winter visitor (<100 individuals) in SW- and SE-Iceland and a rare breeder. No IBAs are designated for this species.
Icelandic Red list 2018: Critically Endangered (CR, D), the same as in last assessment in 2000.
Heimildir
Birdlife International 2015. European red list of birds. Luxembourg: Official publication of the European communities. http://datazone.birdlife.org/userfiles/file/Species/erlob/EuropeanRedListOfBirds_June2015.pdf [skoðað 20.10.2016].
Jóhann Óli Hilmarsson 2017. Varp sjaldgæfra fugla 2015–16. Fuglar 11: 14–16.
Pearce-Higgins, J.W., D.J. Brown, D.J.T. Douglas, J.A. Alves, M. Bellio, P. Bocher, G.M. Buchanan, R.P. Clay, J. Conklin, N. Crockford, P. Dann, J. Elts, C. Friis, R.A. Fuller, J.A. Gill, K. Gosbell, J.A. Johnson, R. Marquez-Rerrando, J.A. Masero, D.S. Melville, S. Millington, C. Minton, T. Mundkur, E. Nol, H. Pehlak, T. Piersma, F. Robin, D.I. Rogers, D.R. Ruthrauff, N.R. Senner, J.N. Shah, R.D. Sheldon, S.A. Soloviev, P.S. Tomkovich og Y.I. Verkuil 2017. A global threats overview for Numeniini populations: synthesising expert knowledge for a group of declining migratory birds. Bird Conservation International 27: 6‒34. doi: https://doi.org/10.1017/S0959270916000678.
Wetlands International 2016. Waterbird Population Estimates. http://wpe.wetlands.org/search [skoðað 26. nóvember 2016]
Whitfield, D.P, A.D. Evans og J. Magnússon 1989. Fjöruspói finnst verpandi hérlendis. Bliki 8: 3–6
Höfundur
Was the content helpful Back to top
Please tell us why: