Tildra (
Arenaria interpres

)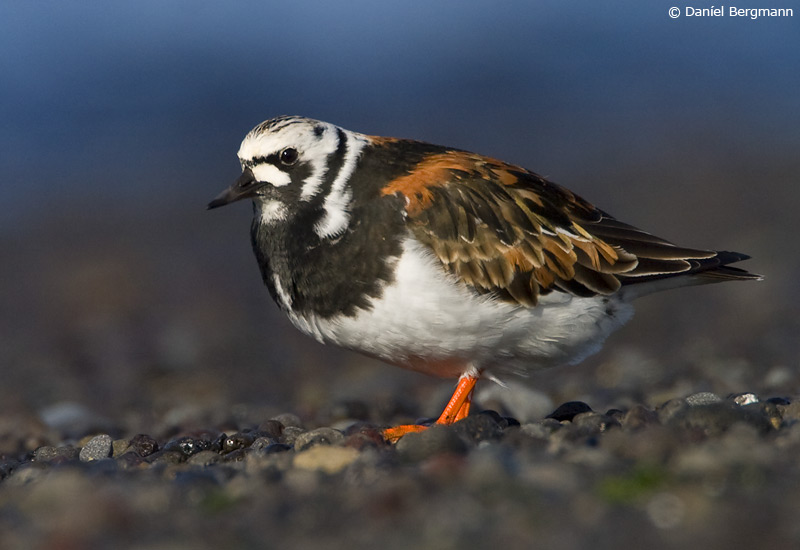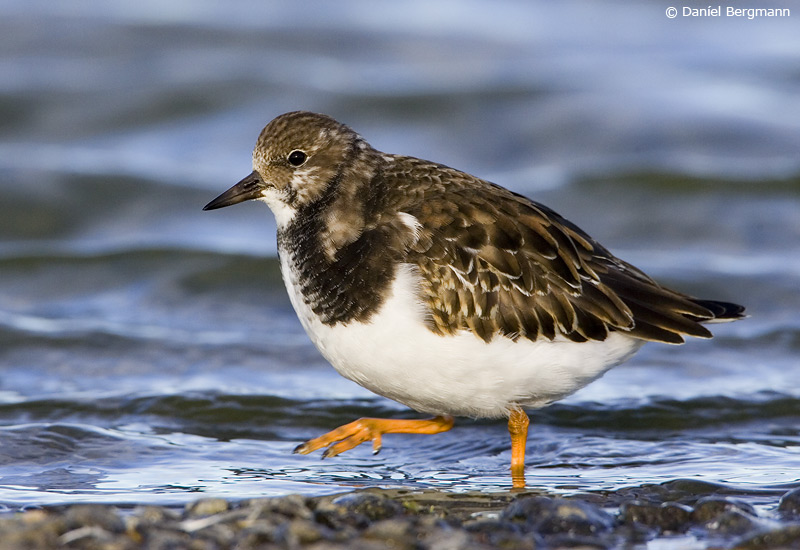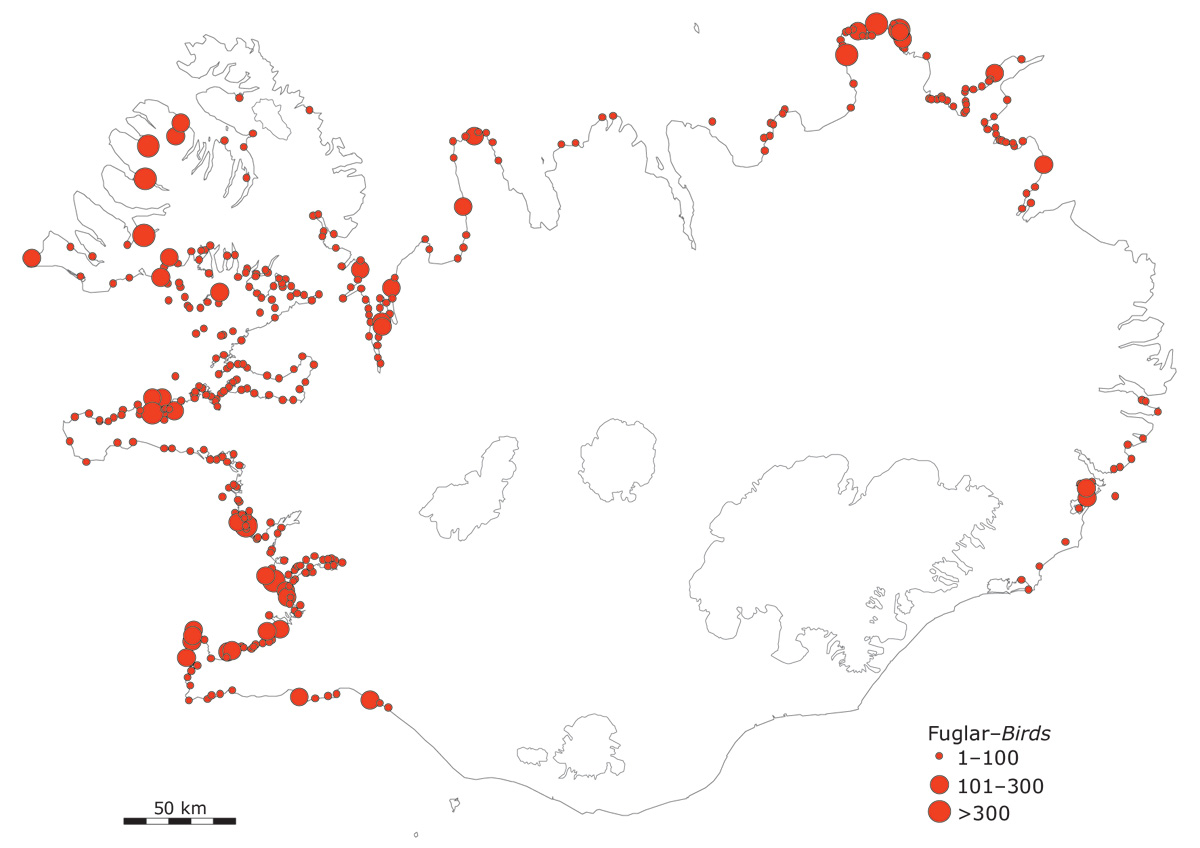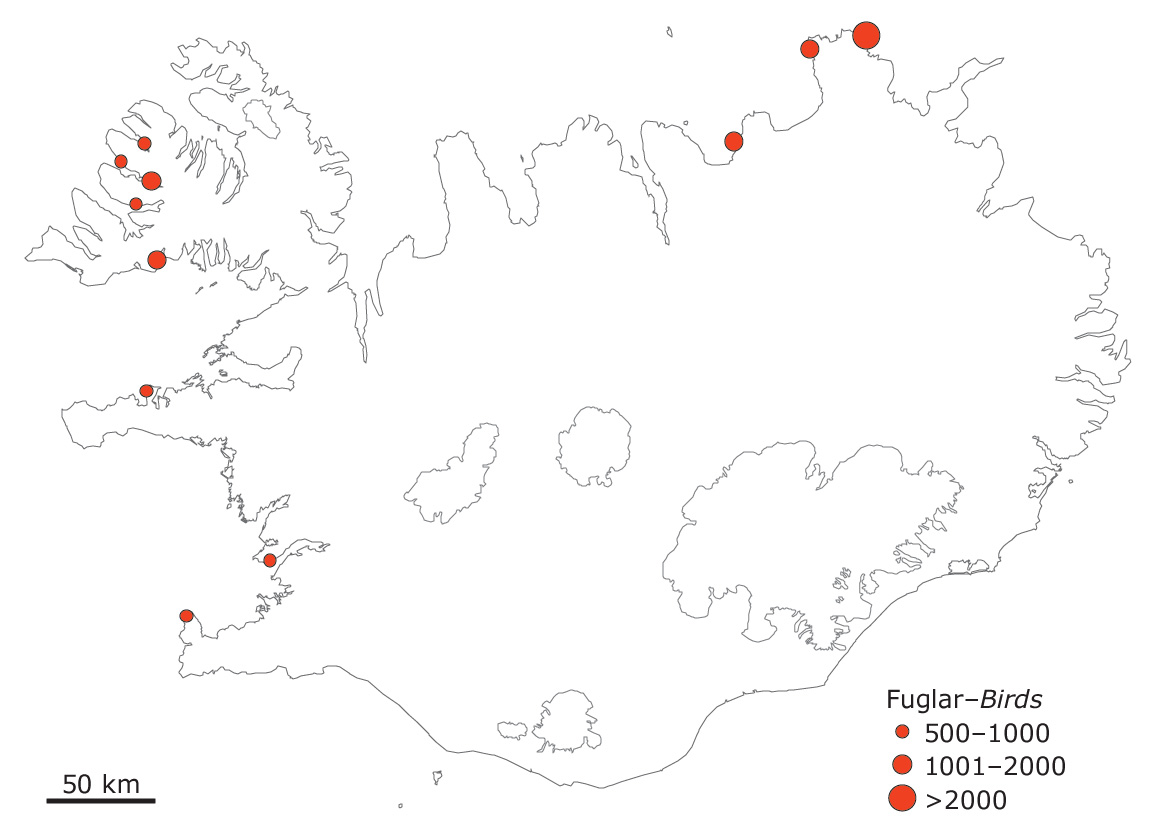 Útbreiðsla
Tildra verpur við Eystrasalt og í N-Skandinavíu en að öðru leyti í heimskautalöndum umhverfis norðurhvel jarðar. Hún fer hér um á leið sinni til og frá varpstöðvum á Grænlandi og í NA-Kanada og hefur sá stofn aðallega vetursetu í V-Evrópu. Tildra er einnig vetrargestur á Ísland, einkum suðvestanlands. Hefur þeim fuglum fækkað mikið á síðustu árum (Náttúrufræðistofnun, vetrarfuglatalningar).
Stofn
Stofninn er metinn 100−200 þúsund fuglar að vetrarlagi, framreiknað út frá áætluðum varpstofni, og hefur fuglunum fjölgað um 1% á ári frá 1988 (van Roomen o.fl. 2015). Tildran sést víða um land á vorin (sjá kort 1) og bentu talningar til þess að um 40.000 fuglar hefðu viðdvöl í fjörum landsins í maí 1990 (Guðmundur A. Guðmundsson og Arnþór Garðarsson 1993). 
Válisti
LC (ekki í hættu)
| Ísland | Evrópuválisti | Heimsválisti |
| --- | --- | --- |
| LC | LC | LC |
Forsendur flokkunar
Kynslóðalengd (IUCN): 7,3 ár
Tímabil sem mat miðast við (3 kynslóðir):
Sá tildrustofn sem fer hér um er stór og hefur vaxið samkvæmt athugunum erlendis. Hann er því ekki talinn í hættu (LC).
Hættuflokkar Alþjóðanáttúruverndarsamtakanna (IUCN)
Viðmið IUCN um mat á válista (pdf)
Eldri válistar
Válisti 2000: Tildra var ekki í hættu (LC).
Verndun
Tildra er friðuð samkvæmt lögum nr. 64/1994 um vernd, friðun og veiðar á villtum fuglum og villtum spendýrum.
Mikilvæg svæði
Nokkur svæði teljast örugglega alþjóðlega mikilvægir viðkomustaðir fyrir tildru (sjá kort 2 og töflu).
A4 i: NA-Kanada/Grænland/Ísland/Evrópa/Afríka = 2.365 fuglar/birds (Wetlands International 2016)
B1 i: A4 i
Töflur
Mikilvæg viðkomusvæði tildru að vori – Important staging areas of Arenaria interpres in spring in Iceland.
Svæði
Area
Svæðisnúmer
Area code
Árstími
Season
Fjöldi (fuglar)
Number (birds)
Ár
Year
% af íslenskum stofni
% of Icelandic popul.
Alþjóðlegt mikilvægi
International importance
Breiðafjörður1
FG-V_11
P
10.000
1990
6,7
A4i, B1i
Tjörnes2
FG-N_3
P
1.445
2008
1,0
A4i, B1i
Melrakkaslétta3
FG-N_4
P
10.000
2011
6,7
A4i, B1i
Alls–Total
 
 
21.445
 
14,4
 
1Guðmundur A. Guðmundsson og Arnþór Garðarsson 1993
2Þorkell Lindberg Þórarinsson og Aðalsteinn Örn Snæþórsson 2008
3Guðmundur Örn Benediktsson, óbirt gögn/unpubl. data
English summary
Arenaria interpres is a common passage migrant in Iceland (40,000 estimated in spring 1990) and a rather rare winter visitor. Three IBAs are designated for this species.
Icelandic Red list 2018: Least concern (LC) as in 2000.
Heimildir
Guðmundur A. Guðmundsson og Arnþór Garðarsson 1993. Numbers, geographic distribution and habitat utilization of waders (Charadrii) in spring on the shores of Iceland. Ecography 16: 82–93.
Náttúrufræðistofnun Íslands. Vetrarfuglatalningar: niðurstöður (1952–2015, óbirt gögn, nema 1987–1989 og 2002–2015). http://www.ni.is/greinar/vetrarfuglatalningar-nidurstodur [skoðað 15.5.2016].
van Roomen M., S. Nagy, R. Foppen, T. Dodman, G. Citegetse og A. Ndiaye 2015. Status of coastal waterbird populations in the East Atlantic Flyway. With special attention to flyway populations making use of the Wadden Sea. Leeuwarden, Hollandi: Programme Rich Wadden Sea; Nijmegen, Hollandi: Sovon; Wageningen, Hollandi: Wetlands International; Cambridge, Englandi: BirdLife International og Wilhelmshaven, Þýskalandi: Common Wadden Sea Secretariat.  https://www.waddensea-worldheritage.org/sites/default/files/2015_Status%20coastal%20birds.pdf [skoðað 19.11.2020]
Wetlands International 2016. Waterbird Population Estimates. http://wpe.wetlands.org/search [skoðað 26. nóvember 2016].
Þorkell Lindberg Þórarinsson og Aðalsteinn Örn Snæþórsson 2008. Farfuglar í fjörum í nágrenni Bakka á Tjörnesi að vori. Náttúrustofa Norðausturlands, NNA-08004. Húsavík: Náttúrustofa Norðausturlands.
Höfundur
Was the content helpful Back to top
Please tell us why: