Auðnutittlingur (
Acanthis flammea

)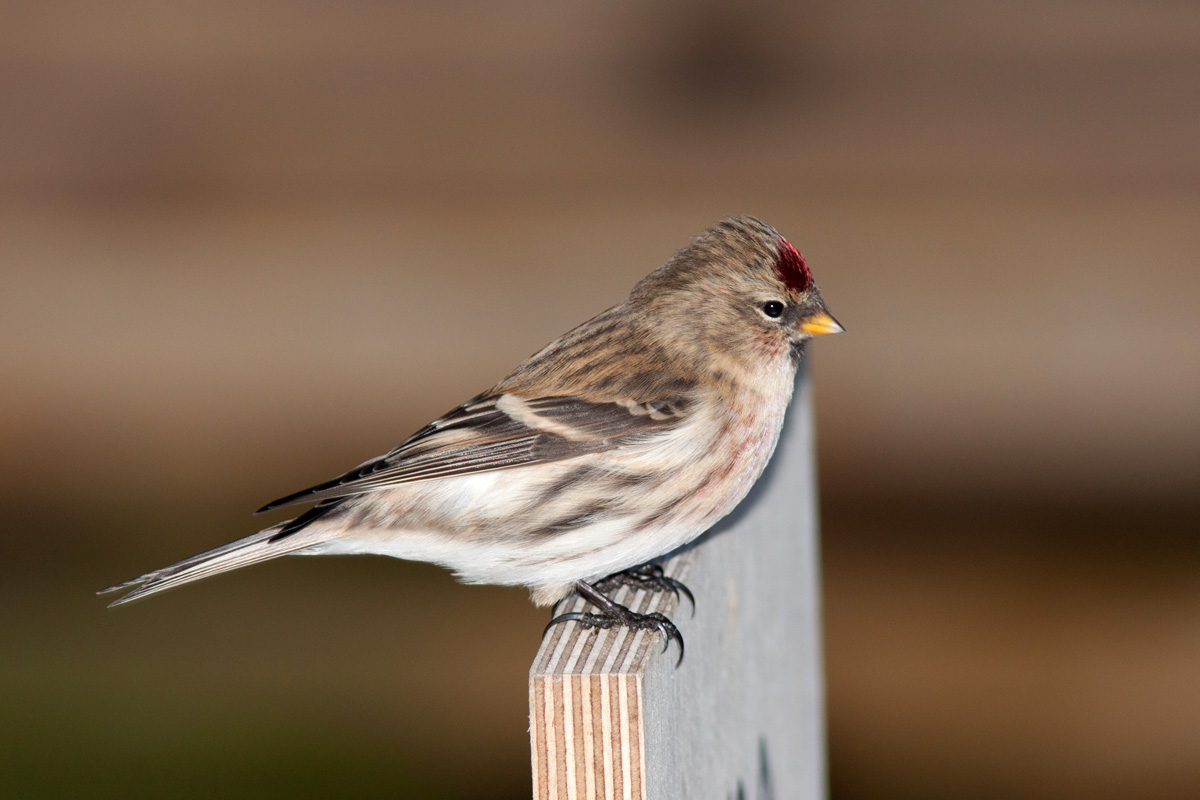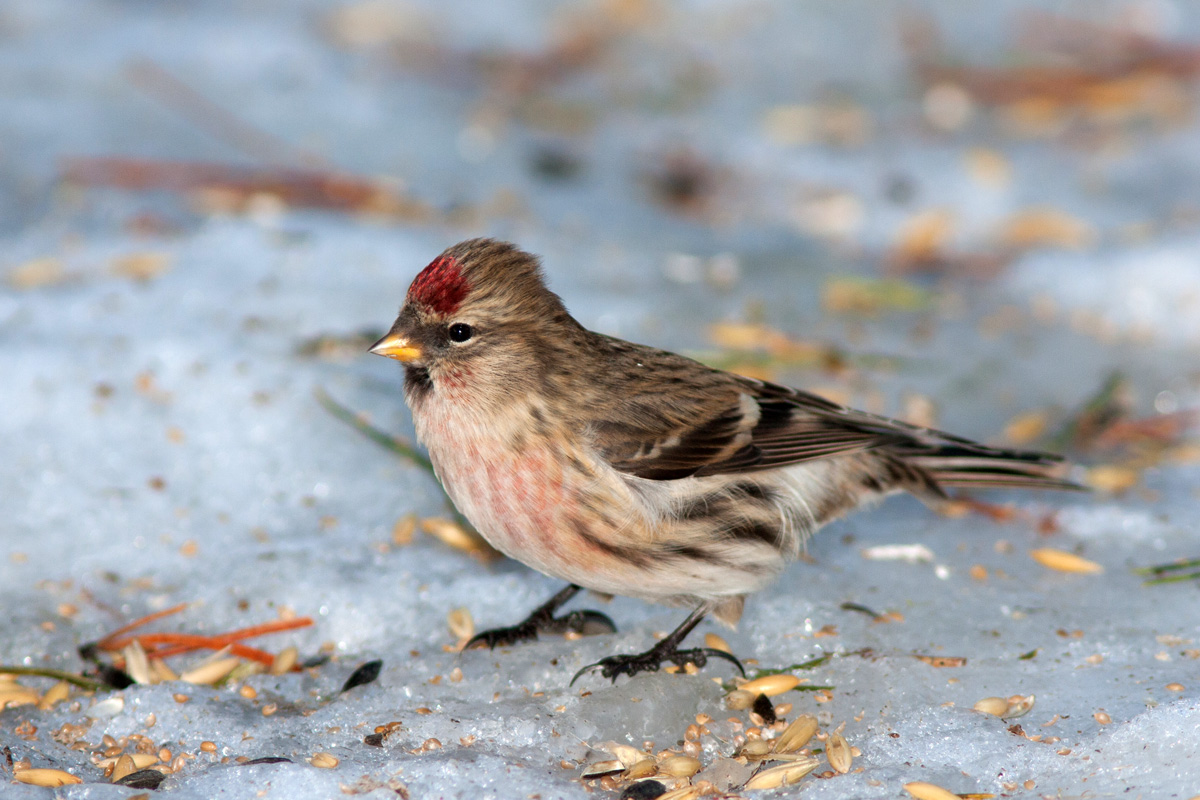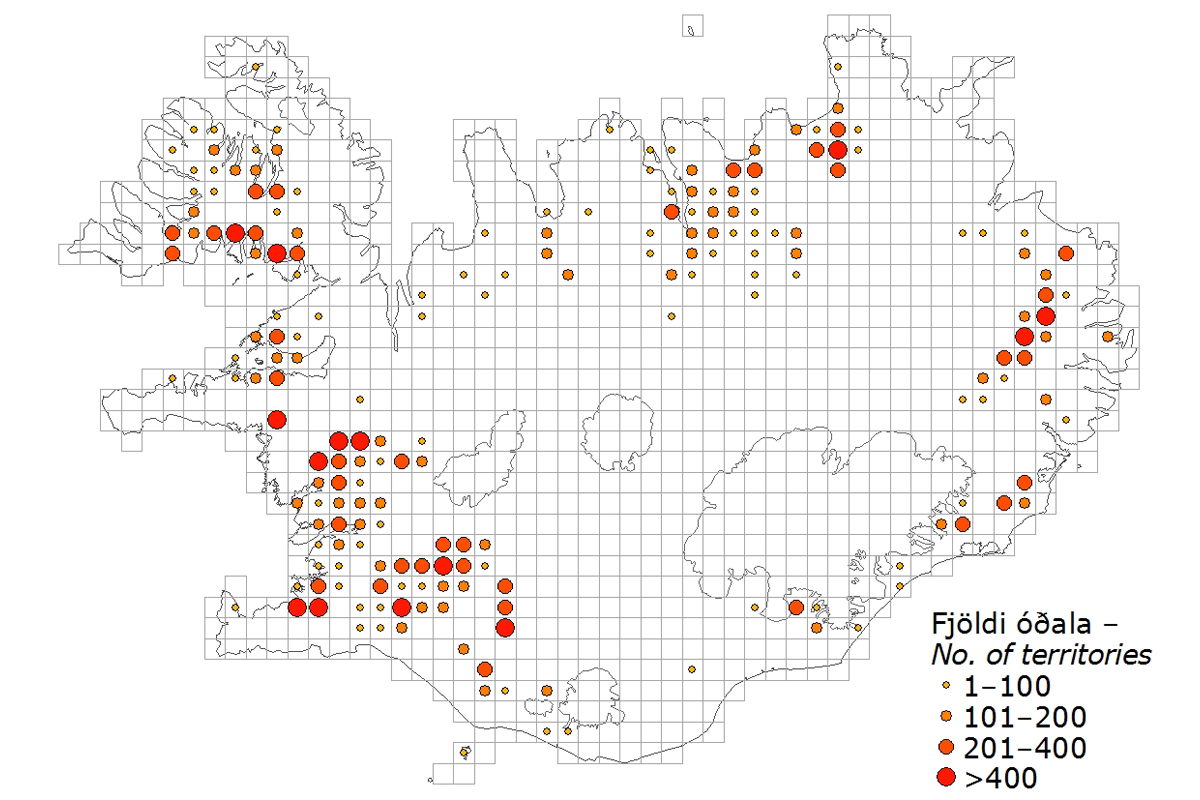 Útbreiðsla
Auðnutittlingur er útbreiddur varpfugl í norðlægum löndum. Hér verpur hann eingöngu í trjám og hefur fjölgað með aukinni trjá- og skógrækt (Einar Ó. Þorleifsson 2015). Auðnutittlingur er staðfugl en flakkar mikið um innanlands á vetrum.
Stofn
Stofnstærð auðnutittlings hefur verið metin um 31.000 pör og byggist á þekktri útbreiðslu og þéttleika varpfugla eftir vistlendum (Kristinn Haukur Skarphéðinson o.fl. 2017). Eldri ágiskun var 10.000−30.000 pör (Asbirk o.fl. 1997). Grænlenskir auðnutittlingar fara hér um og hafa e.t.v. vetursetu. Íslenskir fuglar eru auðþekktir á útliti og mælingum en áhöld eru um hvort telja beri þá sem sérstaka deilitegund (Amouret o.fl. 2015, 2016). 
Dreifing og þéttleiki eftir vistlendum: Útbreiðsla auðnutittlings (sjá kort) endurspeglar fyrst og fremst dreifingu birkikjarrs líkt og útbreiðsla músarrindils. Varpkjörlendið eykst ár frá ári með stækkandi skógarreitum og vaxandi trjárækt, útbreiðslan er því örugglega vanskráð. Mest er af auðnutittlingum í skógvistum, 20,4 pör/km², eða 25.500 pör sem eru 82% af reiknuðum heildarstofni upp á 31.200 pör (Kristinn Haukur Skarphéðinsson o.fl. 2017). Um 22% auðnutittlinga reiknast innan mikilvægra fuglasvæða (sjá töflu).
Válisti
LC (ekki í hættu)
| Ísland | Evrópuválisti | Heimsválisti |
| --- | --- | --- |
| LC | LC | LC |
Forsendur flokkunar
Kynslóðalengd (IUCN): 4,6 ár
Tímabil sem mat miðast við (3 kynslóðir): 2004-2018
Þótt auðnutittlingsstofninn sé ekki sérstaklega vel þekktur má telja líklegt  að hann hafi vaxið á undanförnum árum og er auk þess það stór og dreifður að hann er ekki í hættu (LC).
Hættuflokkar Alþjóðanáttúruverndarsamtakanna (IUCN)
Viðmið IUCN um mat á válista (pdf)
Eldri válistar
Válisti 2000: Auðnutittlingur var ekki í hættu (LC).
Verndun
Auðnutittlingur er friðaður samkvæmt lögum nr. 64/1994 um vernd, friðun og veiðar á villtum fuglum og villtum spendýrum.
Mikilvæg svæði
Engin mikilvæg svæði eru skilgreind fyrir auðnutittling á Íslandi.
Engin/none
Töflur
Reiknaður fjöldi auðnutittlinga sem gæti orpið á þeim mikilvægu fuglasvæðum þar sem >1% íslenska stofnsins er að finna – Calculated number of breeding Carduelis flammea within important bird areas with >1% of the Icelandic population.*
English summary
The Carduelis flammeapopulation in Iceland is estimated 31,000 pairs, based on measured densities in different habitat types and known and probable distribution; 22% may nest in IBAs designated for other species, but such areas are specifically designated for this species.
Icelandic Red list 2018: Least concern (LC) as in 2000.
Heimildir
Amouret, J., K. Steinauer, G.Þ. Hallgrímsson og S. Pálsson 2015. Evolutionary status of Icelandic Redpolls Carduelis flammea islandica (Aves, Passeriformes, Fringillidae). Journal of Ornithology 156: 1035–1048.
Amouret, J., G.Þ. Hallgrímsson, S. Pálsson og Y. Kolbeinsson 2016. Morphological differentiation of Icelandic Redpolls, Acanthis flammea islandica. Bird Study 63: 37–45.
Asbirk S., L. Berg, G. Hardeng, P. Koskimies og Æ. Petersen 1997. Population sizes and trends of birds in the Nordic countries 1978–1994. TemaNord 614. Kaupmannahöfn: Nordic Council of Ministers.
Einar Ó. Þorleifsson 2015. Fuglar í skógum. Auðnutittlingur (Acanthis flammea). Skógræktarritið 2015 (2): 79–81.
Höfundur
Was the content helpful Back to top
Please tell us why: