Keldusvín (
Rallus aquaticus

)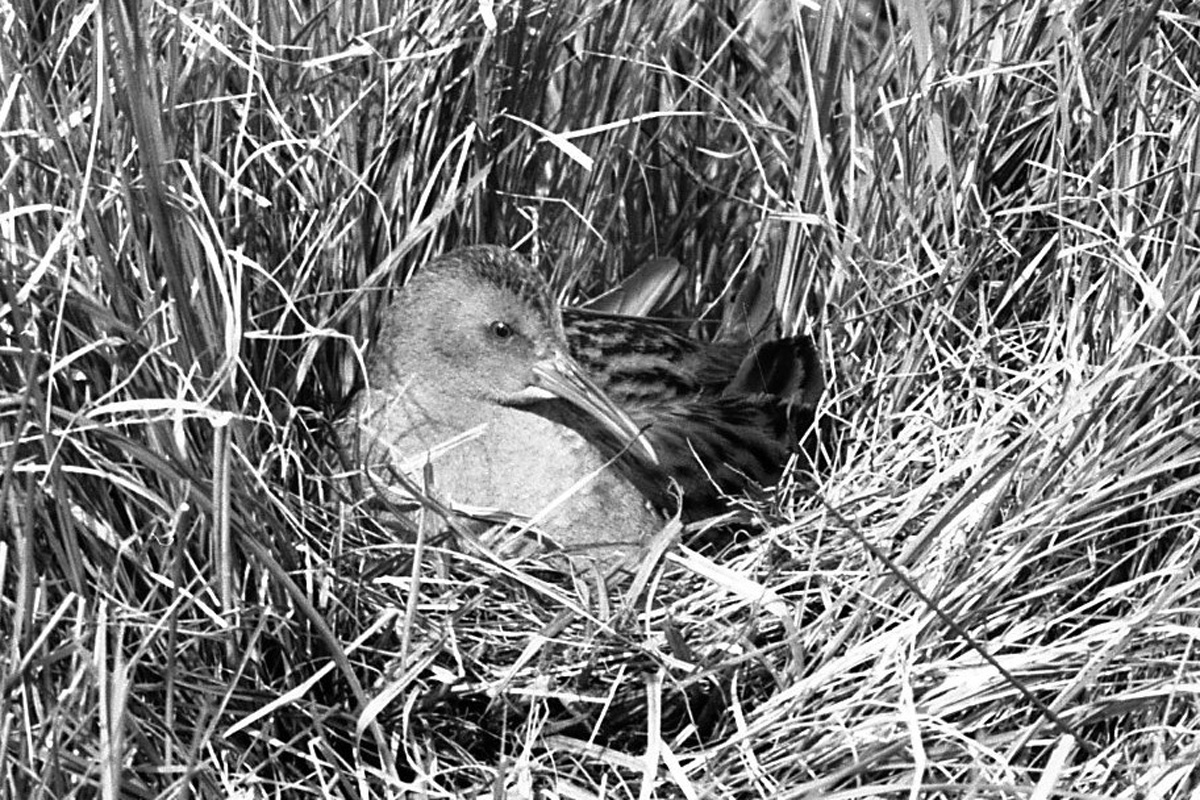 Útbreiðsla
Keldusvínið er útbreitt í Evrópu og Asíu og verpur lítils háttar í Norður-Afríku. Það varp hér á landi langt fram á tuttugustu öldina en dó út sem varpfugl í kringum 1970 (Kristinn Haukur Skarphéðinsson og Einar Þorleifsson 1998). Keldusvín var algengast á Suðurlandi en varp þó á láglendi í öllum landshlutum. Höfuðstöðvar þess voru í Safamýri og Landeyjum en það var einnig algengt í Meðallandi og Ölfusi. Þrátt fyrir talsverða leit á síðustu áratugum 20. aldar hefur keldusvín ekki fundist hér í varpi og er er nú aðeins þekkt hér sem sjaldgæfur en árviss flækingsfugl.
Stofn
Keldusvín er útdautt sem varpfugl á Íslandi.
Lífshættir
Keldusvínið er eindreginn votlendisfugl og kann best við sig í fenjum og foræðum. Á veturna héldu íslensku fuglarnir sig við heitar laugar, læki og kaldavermsl. Talið er að þeir hafi verið staðfuglar. Keldusvínið gerir sér hreiður í hávöxnum gróðri og eggin eru óvenjumörg, yfirleitt 6-10. Um varptímann lætur hátt í fuglinum, hann hrín líkt og svín og er nafnið vafalaust dregið af sérkennilegri röddinni. Varptíminn hér á landi hófst í lok maí og stóð fram í september enda urpu fuglarnir að öllum líkindum tvisvar á sumri. Keldusvín er alæta en fæðan er þó að mestu úr dýraríkinu, þ.e. skordýr, skeldýr og smáfiskar.
Válisti
RE (útdauður á Íslandi)
| Ísland | Evrópuválisti | Heimsválisti |
| --- | --- | --- |
| RE | LC | LC |
Forsendur flokkunar
Kynslóðalengd (IUCN): 4,6 ár
Tímabil sem mat miðast við (3 kynslóðir):
Keldusvín verpur ekki lengur á Íslandi, hætti varpi um 1970 (RE).
Hættuflokkar Alþjóðanáttúruverndarsamtakanna (IUCN)
Viðmið IUCN um mat á válista (pdf)
Eldri válistar
Válisti 2000: Útdauður sem varpfugl á Íslandi (EW = RE, flokkur ekki til þá).
Helstu ógnir
Tvennt er talið eiga stærstan þátt í útdauða keldusvínsins á Íslandi, framræsla votlendis, sem var stunduð af miklum þunga frá því fyrir 1950 og næstu áratugi, og innflutningur minks, sem breiddist hratt út um landið um líkt leyti. Minkur er nú alls staðar landlægur á fornum varpslóðum keldusvínsins og framræsla hefur gert mörg varplönd þess óbyggileg. Fyrir kemur að keldusvín drepist í gildrum sem lagðar eru út fyrir minka eða lendi í kjöftum hunda og katta.
Verndun
Keldusvín er friðað samkvæmt lögum nr. 64/1994 um vernd, friðun og veiðar á villtum fuglum og villtum spendýrum. Til þess að það nái hér fótfestu að nýju þarf að standa skipulega að minkaveiðum og endurheimt votlendis þar sem helst er kjörlendi fyrir keldusvín.
English summary
Rallus aquaticus formerly bred in the lowlands of Iceland, being most common in the south. It is now considered a rare but annual straggler, mainly in autumn. Large-scale drainage of wetlands initiated in the 1940s led to the destruction of key habitats. At the same time feral population of the American mink became established  and these two factors led to a swift and dramatic decline in Water Rail numbers. It became extinct as a breeding bird in Iceland around 1970, but occurs almost annually as a vagrant.
Icelandic Red list 2018: Regionally extinct (RE) as in the 2000 assesment.
Heimildir
Kristinn Haukur Skarphéðinsson og Einar Þorleifsson 1998. Keldusvín – útdauður varpfugl á Íslandi. – Bls. 266-296 í Kvískerjabók. Sýslusafn Austur-Skaftafellssýslu, Höfn í Hornafirði.
Höfundur
Was the content helpful Back to top
Please tell us why: