Hagamús (
Apodemus sylvaticus

)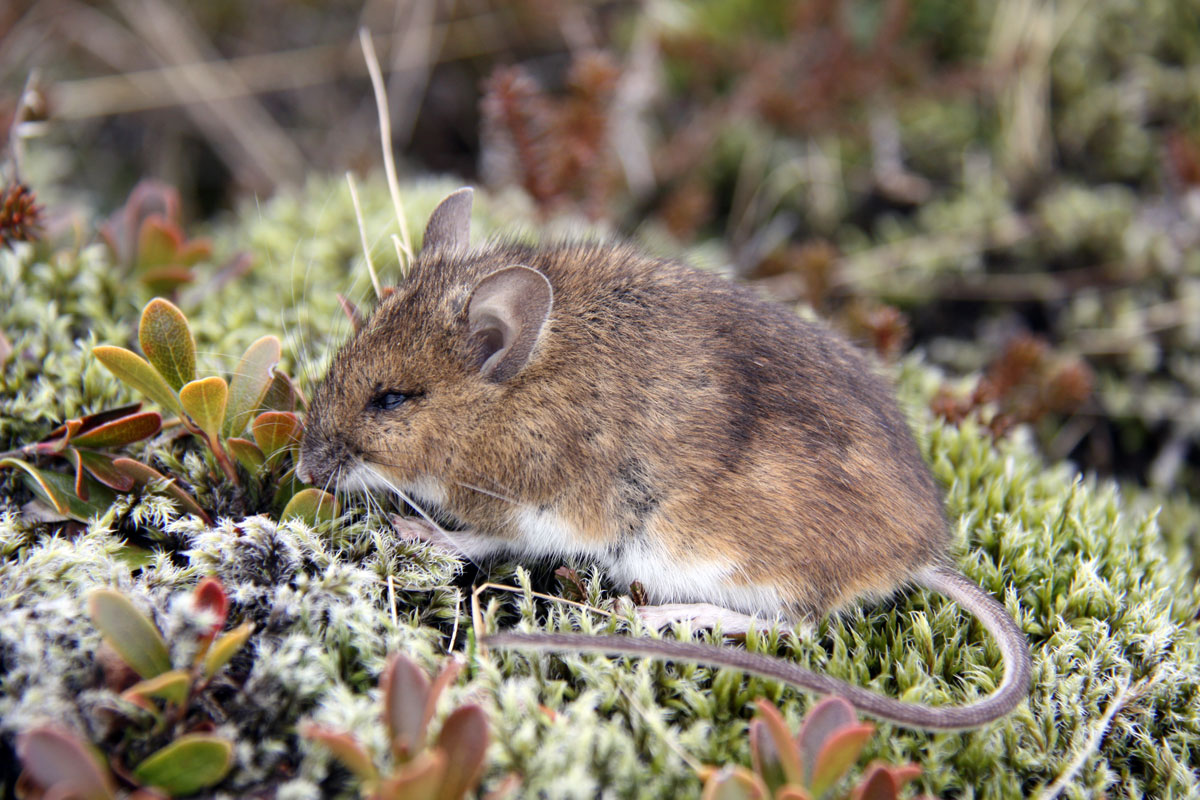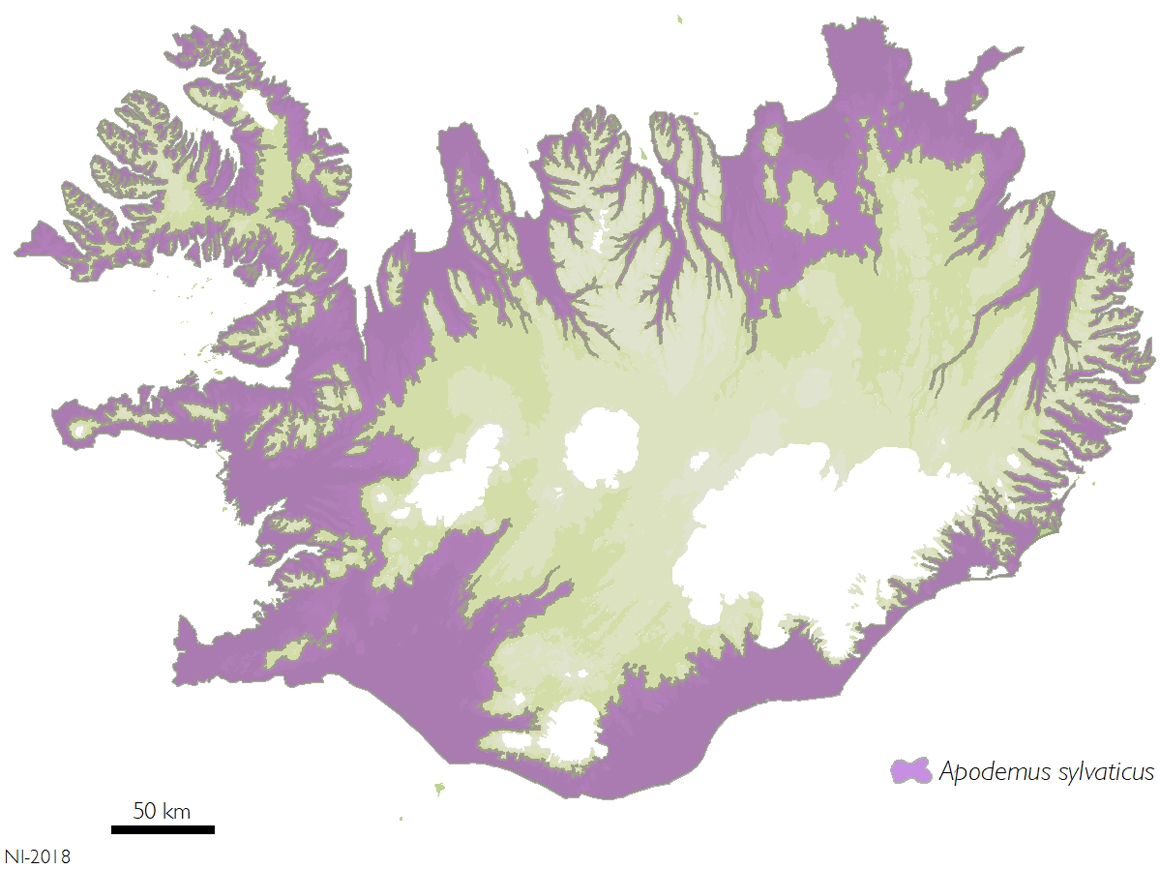 Útbreiðsla
Hagamúsin er algengasta nagdýrið í laufskógum Bretlandseyja og norður Evrópu en hún finnst jafnframt í annarskonar gróðurlendum. Útbreiðslan nær allt norður til Þrándheims í Noregi, austur til Mongólíu og Himalaja í Asíu, suður til Persaflóa og Miðjarðarhafs og N-Afríku, en þangað sem hún barst með mönnum líkt og til Íslands. Hingað barst hún með mönnum á fyrstu öldum íslandsbyggðar og hefur verið hér síðan. Hér er hagamúsin á útmörkum útbreiðslu sinnar til norðurs og vesturs en engar hagamýs eru í Færeyjum. Útbreiðsla hennar nær allt frá sjávarmáli og upp í 3.300 metra hæð, í Atlasfjöllum í Afríku. Á Íslandi eru hagamýs útbreiddar á láglendi og upp í 400 metra hæð yfir sjávarmáli, þar sem gróður er að finna og finnast einnig strjált upp í 600 metra hæð. Eins finnast þær á á nokkrum eyjum við við landið og á stöku stöðum á miðhálendinu, svo sem á Snæfellsöræfum. Hagamúsin er eina nagdýrategundin sem lifir villt í náttúru landsins óháð manninum (undantekning er húsamús (Mus musculus) í Vestmannaeyjum).
Stofn
Hagamúsin er útbreidd og algeng í vel grónu og sæmilega þurru landi. Þéttleiki að hausti er afar misjafn eftir gróðurlendum, í hvannastóði á Suðurlandi (30-50 mýs/ha), blönduðum laufskógi á Suðvesturlandi (20-25 mýs/ha) og ræktuðum túnum á Suðvesturlandi (4 mýs/ha). Viðkoma stofnsins er tengd framleiðslu fræja sem henta til geymslu yfir vetrartímann, s.s. hvönn. Stofnsveiflur eru miklar eftir árstíðum, mest er af músum á haustin og ræðst hámarksþéttleiki að einhverju leyti af hitastigi að vetri. Reglubundnar sveiflur í stofnstærð milli ára eru ekki þekktar hérlendis.
Lífshættir
Almennt eru hagamýs taldar vera fræætur en þær éta flest sem ætilegt getur talist, ýmiskonar fræ, skordýr á ýmsum vaxtarskeiðum, snigla og dýrahræ. Hagamýs gegna mikilvægu hlutverki í hringrás næringarefna í flestum vistkerfum landsins. Mýsnar fara ekki í dvala að vetrum og safna gjarnan matarforða í hreiður sín. Tímgun fer einungis fram yfir hlýjustu mánuði ársins og fæðast fyrstu ungar í maí-júní. Í góðu árferði geta hagamýs, sem fæðast snemma að vori, orðið kynþroska og eignast afkvæmi síðla sama sumars.
Lýsing
Hagamúsin er um 9-10 sentímetrar að lengd og vegur um 20-30 grömm. Eyrun og augun eru stór en skottið er lítið eitt styttra en líkaminn. Hagamýs eru brúnar með ljósan kvið og er skottið nánast hárlaust. Skinnið á skottinu er afar þunnt og rifnar auðveldlega af við átak.
Válisti
LC (ekki í hættu)
| Ísland | Evrópuválisti | Heimsválisti |
| --- | --- | --- |
| LC | LC | LC |
Forsendur flokkunar
Tegundin er algeng og útbreidd og engin merki um hnignun í stofninum. Hún telst því ekki í hættu (LC).
Staða á heimsvísu
Hagamýs eru algengar og útbreiddar á flestum útbreiðslusvæðum tegundarinnar. Stofnstærð er stöðug víðast hvar en allt að tífaldur munur geti verið á þéttleika milli ára þó engar reglubundnar sveiflur í stofnstærð séu þekktar. Tegundin er ekki í hættu (LC) í Evrópu, né á heimsvísu, samkvæmt viðmiðum IUCN.
Helstu ógnir
Engar þekktar ógnir steðja að hagamúsum hérlendis.
Verndun
English summary
Apodemus sylvaticus is distributed in vegetated areas of Iceland, up to 400m above sea level, as well as on some offshore islands and sporadically in the interior up to 600m above sea level. The density is high in deciduous woodlands and stands of Angelica (Angelica archangelica) and Lupin (Lupinus nootkatensis) but low in lavafields and other habitats with poor seed production. The species was introduced to Iceland with the first settlers during late 9th century and has survived in lowland vegetated areas ever since. The population size is unknown but the species is common and widely distributed and therefore regarded as not threatened (LC) according to IUCN criteria.
Heimildir
Bengtson, S.A., A. Nilsson og S. Rundgren 1989a. Population structure and dynamics of wood mouse Apodemus sylvaticus in Iceland. Holarct. Ecol. 12: 351–368.
Herman, Jeremy S., Fríđa Jóhannesdóttir, Eleanor P. Jones, Allan D. McDevitt, Johan R. Michaux, Thomas A. White, Jan M. Wójcik og Jeremy B. Searle (2016). Post‐glacial colonization of Europe by the wood mouse, Apodemus sylvaticus: evidence of a northern refugium and dispersal with humans. Biological Journal of the Linnean Society. https://doi.org/10.1111/bij.12882
Karl Skírnisson 2004. Hagamús. Í Íslensk spendýr, bls. 262-269 (ritstj. Páll Hersteinsson). Reykjavík: Reykjavík.
Schlitter, D., van der Straeten, E., Amori, G., Hutterer, R., Kryštufek, B., Yigit, N. & Mitsain, G. 2016. Apodemus sylvaticus. The IUCN Red List of Threatened Species 2016: e.T1904A115059104. http://dx.doi.org/10.2305/IUCN.UK.2016-3.RLTS.T1904A22423831.en
Unnsteinsdottir, E.R., og P. Hersteinsson 2009. Surviving north of the natural range: the importance of density independence in determining population size. Journal of Zoology 277(3): 232–240.
Unnsteinsdottir, E.R. og P. Hersteinsson 2011. Effects of contrasting habitats on population parameters and diet of Apodemus sylvaticus (Rodentia) in south-western Iceland. Mammalia 75(1): 13–21.
Wilson, W.L., W.I. Montgomery og R.W. Elwood 1993. Population regulation in the wood mouse Apodemus sylvaticus (L.). Mammal Rev. 23: 73–92.
Höfundur
Was the content helpful Back to top
Please tell us why: