Húsamús (
Mus musculus

)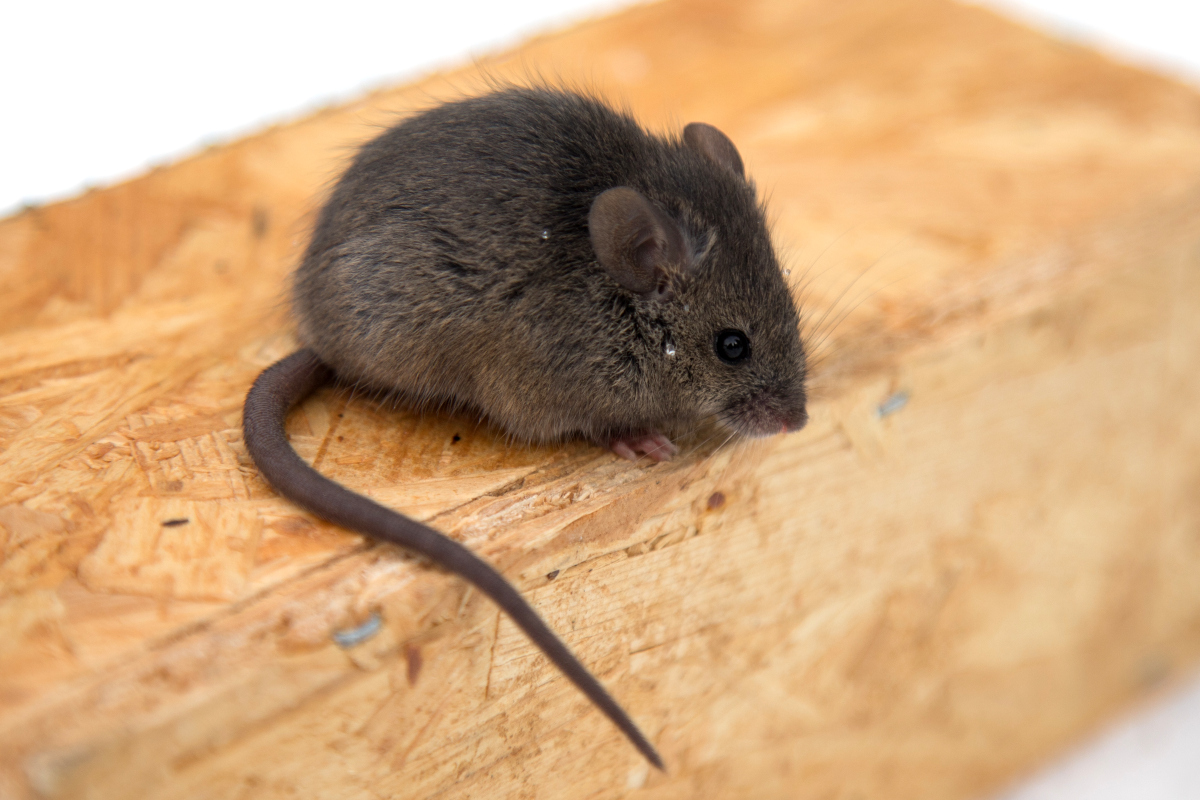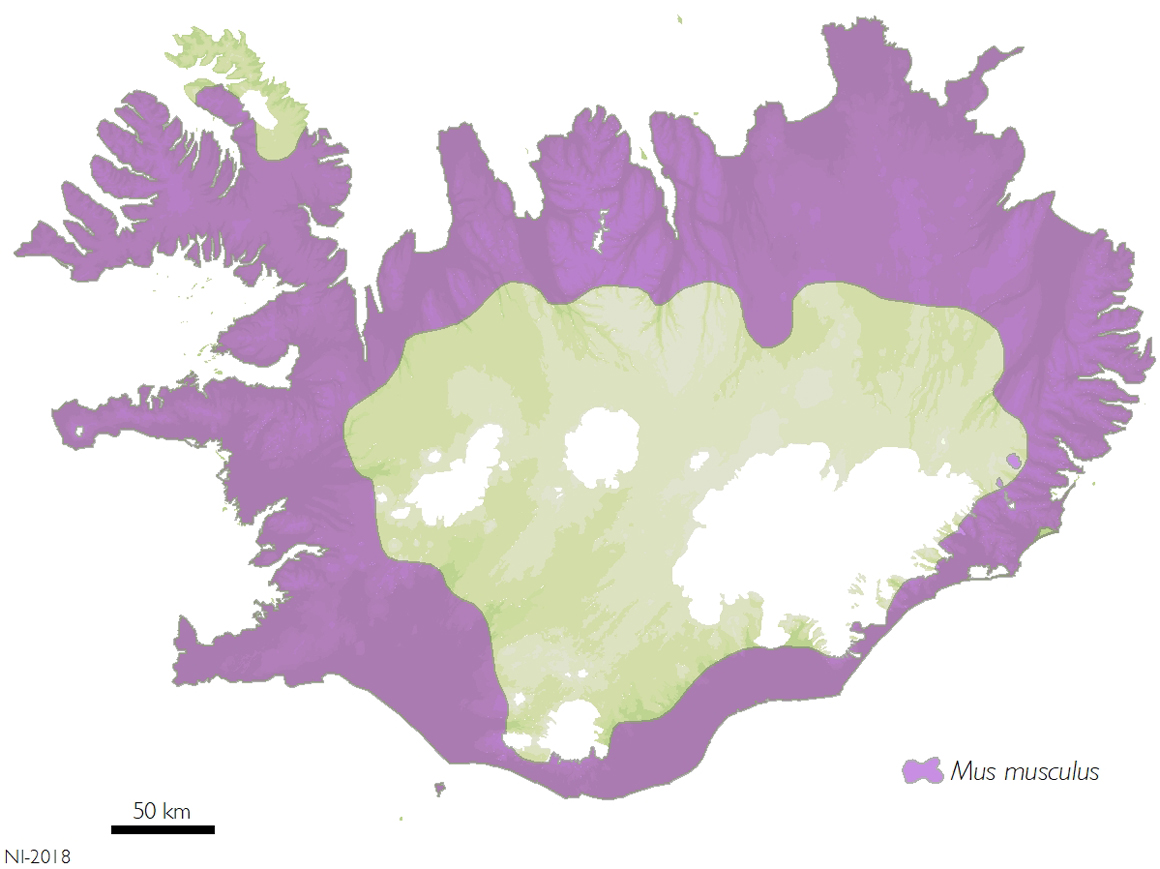 Útbreiðsla
Húsamús hefur breiðst út víða fyrir tilstuðlan mannsins og finnst í öllum heimsálfum utan Suðurskautslandsins. Hún kom hingað með mönnum á fyrstu öldum Íslandsbyggðar og líklega af og til síðan. Húsamús er útbreidd í og við þéttbýli og við suma sveitabæi um mestallt láglendi Íslands og á sumum eyjum. Húsamúsin er háð manninum um húsaskjól en þó lifa húsamýs bæði innan- og utandyra í Vestmannaeyjum en þar eru engar hagamýs.
Stofn
Flokkunarfræðileg staða tegundarinnar var lengi í vafa og yfirleitt talað um tvær deilitegundir, M. mus musculus og M. mus domesticus. Um miðbik 20. aldar töldu sumir ljóst að um tvær aðskildar tegundir væri að ræða. IUCN telur mýsnar þó til sömu tegundar og er þeirri flokkun haldið hér. Nýlega var sýnt fram á að íslenskar húsamýs eru af deilitegundinni M. m. domesticus. Ekki er þó hægt að útiloka að M. m. musculus finnist einnig á Íslandi. Stofnstærð húsamúsa hér á landi er óþekkt en hún er víða algeng og viðkoma er mikil því húsamúsin tímgast allt árið og verður snemma kynþroska. Reglubundnar stofnsveiflur eru óþekktar en dæmi eru um að húsamúsum fjölgi gríðarlega af og til án augljósra skýringa.
Lífshættir
Húsamýs eru alætur og safna ekki forða svo þær þurfa stöðugt að vera á ferðinni til að afla fæðu. Þær lifa yfirleitt innandyra og því gætir ekki árstíðabreytinga í lífsháttum þeirra. Húsamýs geta orðið kynþroska 5-6 vikna gamlar og við góð fæðuskilyrði geta þær eignast afkvæmi á mánaðarfresti alla ævi.
Lýsing
Húsamúsin er um 8-9 sentímetrar að lengd og vegur um 18-25 grömm. Eyrun eru stór en augun lítil og skottið svipað að lengd og líkaminn. Liturinn er dökkgrár eða grábrúnn og gjarnan örlítið ljósari á kviði, þó yfirleitt ekki hvítur. 
Válisti
LC (ekki í hættu)
| Ísland | Evrópuválisti | Heimsválisti |
| --- | --- | --- |
| LC | LC | LC |
Forsendur flokkunar
Húsamúsin er víða algeng og útbreidd og engin merki um hnignun í stofninum. Hún flokkast því sem tegund sem ekki er í hættu (LC) samkvæmt skilgreiningum IUCN.
Staða á heimsvísu
Húsamýs eru algengar og útbreiddar víðast hvar þar sem þær er á annað borð að finna og flestir stofnar stöðugir. Hún er því hvorki talin í hættu (LC) í Evrópu né á heimsvísu samkvæmt viðmiðum IUCN.
Helstu ógnir
Engar ógnir steðja að húsamúsinni, svo vitað sé.
Verndun
English summary
The house mouse came to Iceland with the first settlers in the late 9th century. It is possible that both Mus m. musculus and Mus m. domesticus live in Iceland, but recent studies have confirmed the latter occurring in Iceland. The house mouse is distributed in most urban areas of Iceland and as well as in many farms. House mice are contingent upon close habitation with humans, with the exception of Vestmannaeyjar islands, where the mice also live outdoors. The population size is unknown but the species is common and therefore regarded as not threatened (LC) according to IUCN criteria.
Heimildir
Eleanor Jones, K. Skírnisson, T.H. McGovern og E. Willerslev (2012). Fellow travellers: a concordance of colonization patterns between mice and men in the North Atlantic region BMC Evolutionary Biology, 12: 35. https://doi.org/10.1186/1471-2148-12-35
Karl Skírnisson 2004. Húsamús. Í Íslensk spendýr, bls. 272-275. (ritstj. Páll Hersteinsson). Reykjavík: JPV.
Musser, G., Hutterer, R., Kryštufek, B., Yigit, N. & Mitsain, G. 2016. Mus musculus. The IUCN Red List of Threatened Species 2016: e.T13972A115117618. http://dx.doi.org/10.2305/IUCN.UK.2016-3.RLTS.T13972A22405706.en
Höfundur
Was the content helpful Back to top
Please tell us why: