Sandlægja (
Eschrichtius robustus

)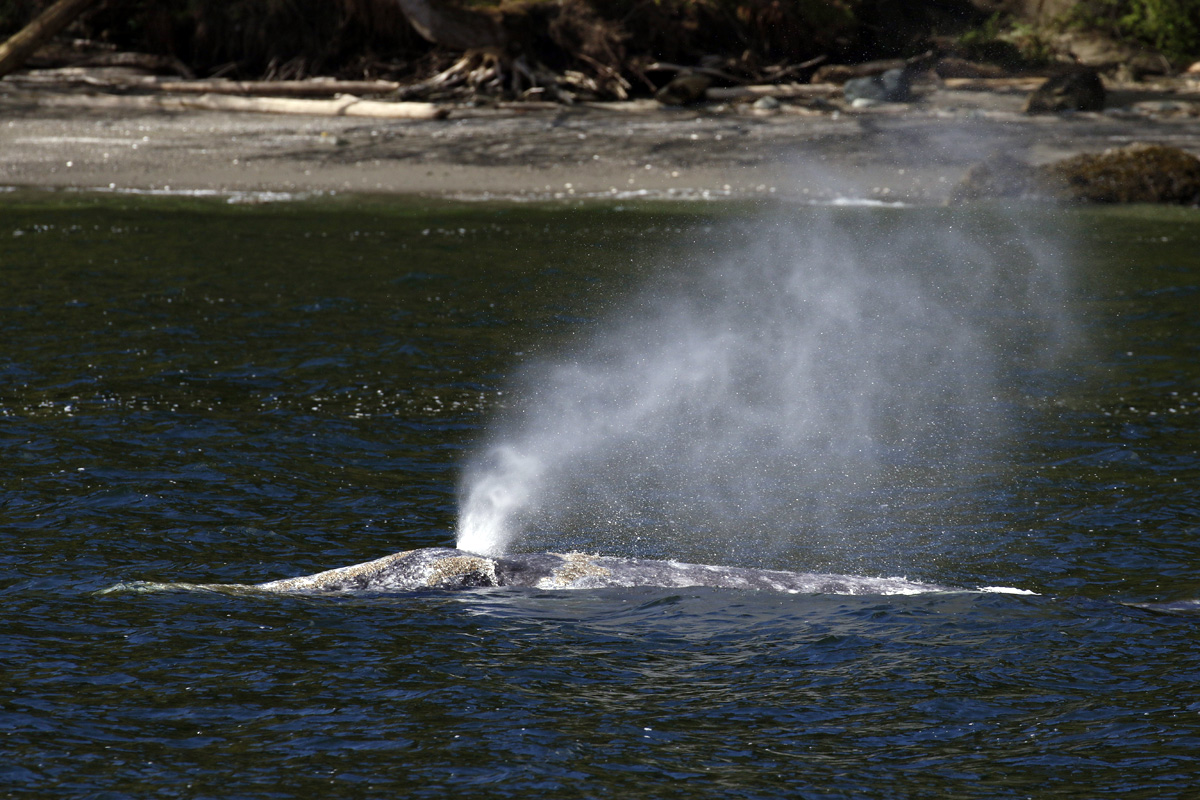 Útbreiðsla
Sandlægja finnst nú eingöngu við Norður-Kyrrahaf og eru þar tveir aðskildir stofnar kenndir við Kóreu (austurstofn) og Kaliforníu (vesturstofn). Sandlægja var áður í Norður-Atlantshafi en dó þar út á 17. öld. Hún stundar árstíðabundið far milli vetrar- og sumarheimkynna og ferðast allt að átta þúsund km og er það hið lengsta sem þekkist meðal spendýra.
Stofn
Tveir aðskildir stofnar sandlægju eru skilgreindir: vesturstofn, sem hefur minnkað mikið og er talinn í útrýmingarhættu, og austurstofn, sem hefur stækkað umtalsvert frá friðun og er ekki í útrýmingarhættu. Sandlægja var veidd við Ísland til forna en dó út í Norður-Atlantshafi á 17. öld. Tegundin var víðar ofveidd um aldamótin 1900 svo nærri lá við útrýmingu. Komið var í veg fyrir frekari fækkun með friðun árið 1946. Þá var öll veiði bönnuð öðrum en frumbyggjum í Síberíu og Washingtonríki Bandaríkjanna.
Lífshættir
Fæða sandlægju er fyrst og fremst sótt í hafsbotninn og eru marflær stór hluti hennar. Að jafnaði verða sandlægjur kynþroska átta ára og makast þær um miðjan vetur. Meðgöngutíminn er um eitt ár og er kálfurinn á spena í 7-8 mánuði. Sandlægjur eru einfarar og er samgangur lítill milli einstaklinga utan fengitíma.
Lýsing
Sandlægja er fremur gildvaxin en þó grennri en sléttbakur. Hausinn er mjósleginn og fremur stuttur, þríhyrningslaga að ofan en niðursveigður til hliðanna. Skíðin eru stutt, rjómagul og grófhærð að innanverðu. Sandlægja hefur ekki horn á baki en hnúðar liggja eftir aftanverðri baklínu. Bægslin eru breið og stutt. Sporðurinn er stuttur og með áberandi rauf í miðjunni.
Válisti
RE (útdauð á Íslandi)
| Ísland | Evrópuválisti | Heimsválisti |
| --- | --- | --- |
| RE | RE | LC |
Forsendur flokkunar
Dó út við Ísland og annars staðar í Norður-Atlantshafi á 17. öld.
Staða á heimsvísu
Sandlægju hefur farið fjölgandi á austursvæði stofnsins og er tegundin stöðug og ekki í útrýmingarhættu (LC). Kaliforníustofninn (vestur) hefur aldrei náð sér á strik og líklega eru of fáir einstaklingar til að tryggja örugga viðkomu tegundarinnar á því svæði. Tegundin er í viðauka I á lista CITES um alþjóðaviðskipti með hvalaafurðir.
English summary
Eschrichtius robustus has a coastal distribution and was commonly hunted, resulting in over-exploitation, most likely also in Icelandic waters (North-Atlantic stocks). Commercial whaling was banned in 1946 and since then numbers increased to reasonable numbers except for North-Atlantic waters where the species became regionally extinct during the 17th century. There are now two main stocks, the eastern and western, where the former one is thriving but the latter has not recovered and is endangered (EN) according to IUCN criterias. The species is listed in Appendix I of CITES and Appendix II of CMS.
Heimildir
Gísli A. Víkingsson (2004). Sandlægja. Í: Íslensk spendýr (ritstj. Páll Hersteinsson). JPV, Reykjavík. Bls. 198-199.
Reilly, S.B., Bannister, J.L., Best, P.B., Brown, M., Brownell Jr., R.L., Butterworth, D.S., Clapham, P.J., Cooke, J., Donovan, G.P., Urbán, J. & Zerbini, A.N. 2008. Eschrichtius robustus. The IUCN Red List of Threatened Species 2008: e.T8097A12885255. http://dx.doi.org/10.2305/IUCN.UK.2008.RLTS.T8097A12885255.en. Downloaded on 12 July 2018.
Höfundur
Was the content helpful Back to top
Please tell us why: